The keto diet is based around high fat and protein-rich foods, such as meat and dairy. But, the keto diet can be easily achievable for vegans. Whilst there are daily nutrient requirements you need to stick to for the keto diet, the right plant-based substitutes can help a person accomplish that. 
Plant-based proteins are readily available and easy to source. Similarly, there are plenty of delicious and highly nutritious meals you can enjoy on the vegan keto diet. Today, you will discover the 7 best vegan breakfast recipes:
Recipe 1: Overnight Oats
Hemp hearts are not only a great source of omega-3's, but they are also the best option when it comes to seeds for the vegan keto diet. They do not have a sticky texture like chia and flax seeds. Hemp is the best replacement for oats. This can be served with your own choice of toppings such as almond flakes, raspberries, or spices.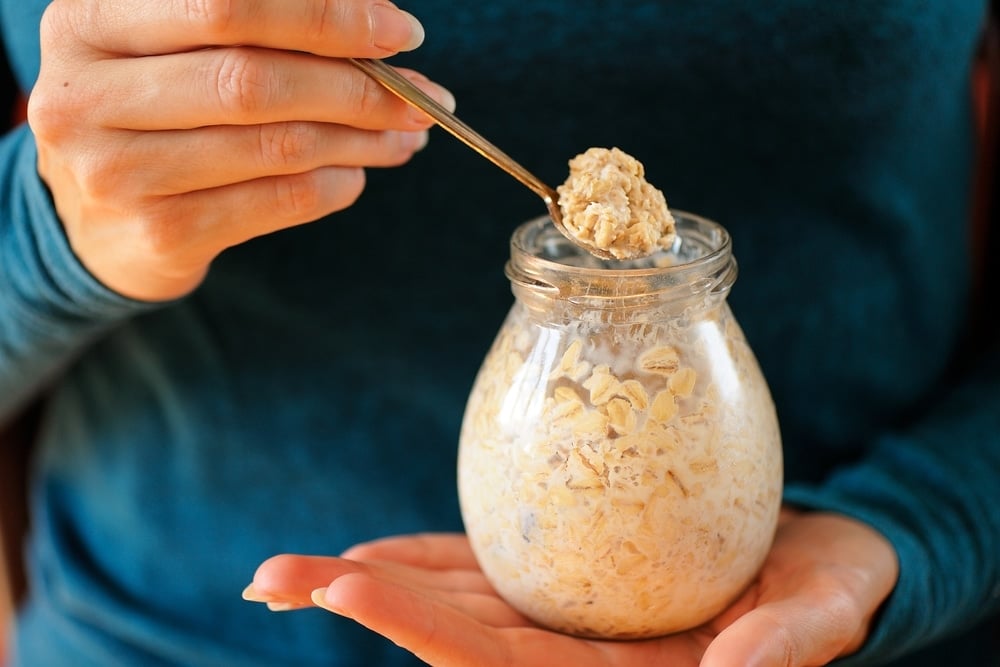 Difficulty: Easy 
Prep: 5 minutes
Cooking: 0 minutes
Servings: 2
Ingredients:
160ml full-fat coconut milk 
75 grams hemp hearts
1tbsp chia seeds
3-4 drops liquid stevia 
1/2 tsp of vanilla extract
Directions:
Add all ingredients to a 350ml container
Mix until combined
Cover and put the container in the fridge overnight, or for at least 8 hours
Before eating, add additional full-fat coconut milk until desired consistency is reached
Recipe 2: Tofu Scramble
This is a high protein breakfast packed full of energy and nutrients. Tofu scramble is a great alternative for vegans who miss eating eggs. Enjoy with or without toast. Delicious toppings include chives, avocado, and tomatoes.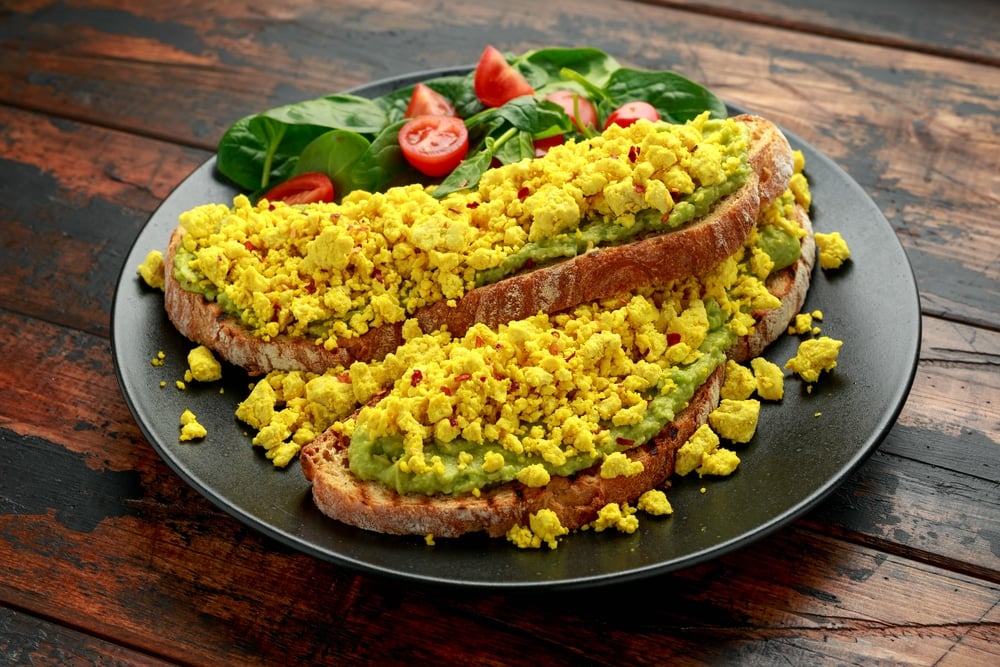 Difficulty: Medium 
Prep: 10 minutes
Cooking: 10 minutes 
Servings: 2
Ingredients:
220g extra firm tofu
1 tbsp vegan butter
2 tbsp nutritional yeast
½ tsp paprika
½ tsp turmeric
1 tsp dijon mustard
½ tsp garlic powder
¼ tsp onion powder
¼ tsp salt
80ml soy milk
Directions:
Mash the tofu bowl until small chunks are formed, ideally with a fork
In a different bowl, add the following ingredients into the bowl – nutritional yeast, paprika, turmeric, garlic powder, onion powder, dijon mustard, and salt
Add the soy milk and whisk the ingredients until a sauce is formed
Heat the vegan butter in a pan 
Add the tofu and fry the tofu until brown, making sure not to break down the chunks
Mix the sauce with the tofu until desired texture is met 
Recipe 3: Vegan Keto Pancakes
Pancakes make a great breakfast for those who have a sweet tooth. The animal-free ingredients make them ideal for the vegan keto diet. 
These pancakes contain over 9 grams of protein. They can be topped for extra yumminess with raspberries, coconut cream, vegan butter, or a mixture of them all.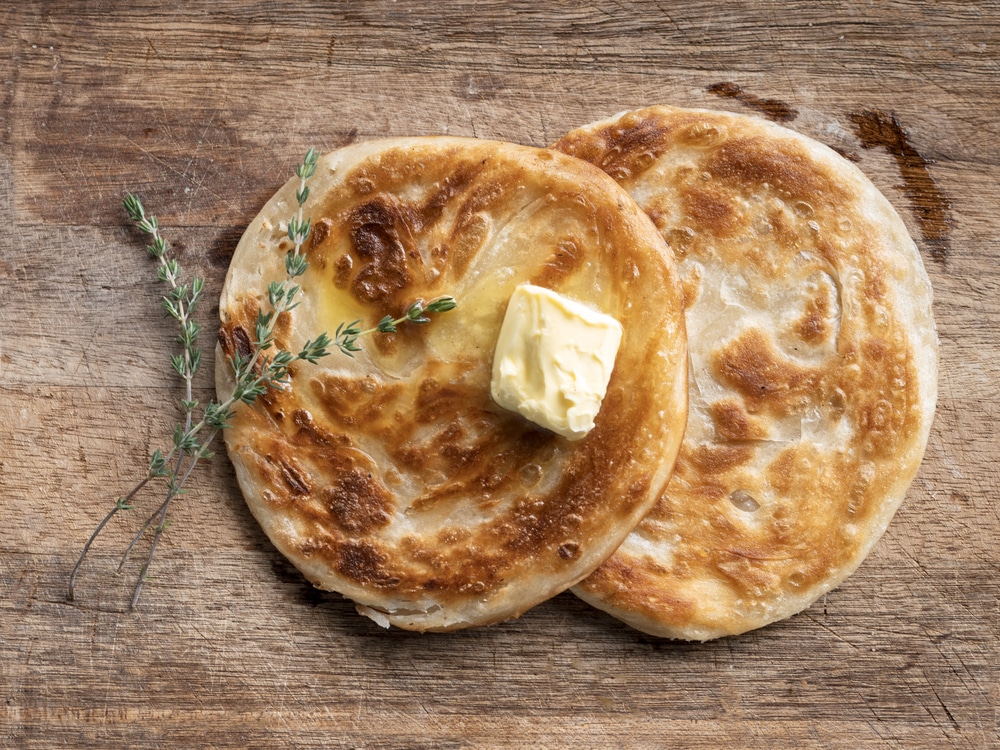 Difficulty: Easy 
Prep: 5 minutes
Cooking: 10 minutes
Servings: 1
Ingredients:
2 tbsp vegan butter
60ml unsweetened almond milk 
1 tbsp ground flax
1 tbsp coconut flour
½ tsp baking powder
Liquid stevia to taste (optional)
Directions:
Add oil to your pan on a low to medium heat – coconut, olive, or MCT oil are good options
In a bowl, combine the vegan butter and almond milk
In a different bowl, combine well all of the dry ingredients
Add the dry and wet ingredients together, combine until mixed well and let sit for 3 minutes
Spoon the mixture into the hot pan, cook for 4  minutes on one side, until they brown over
Flip over the pancakes and cook through on the other side for up to 3 minutes, or until cooked
Recipe 4: Cauliflower Hash Browns
Cauliflower is a great source of essential vitamins and nutrition. Using other vegetables than potatoes to make hash browns is a delicious and lower carb option for breakfast. These can be enjoyed with a side of avocado, leafy greens and/or tomatoes.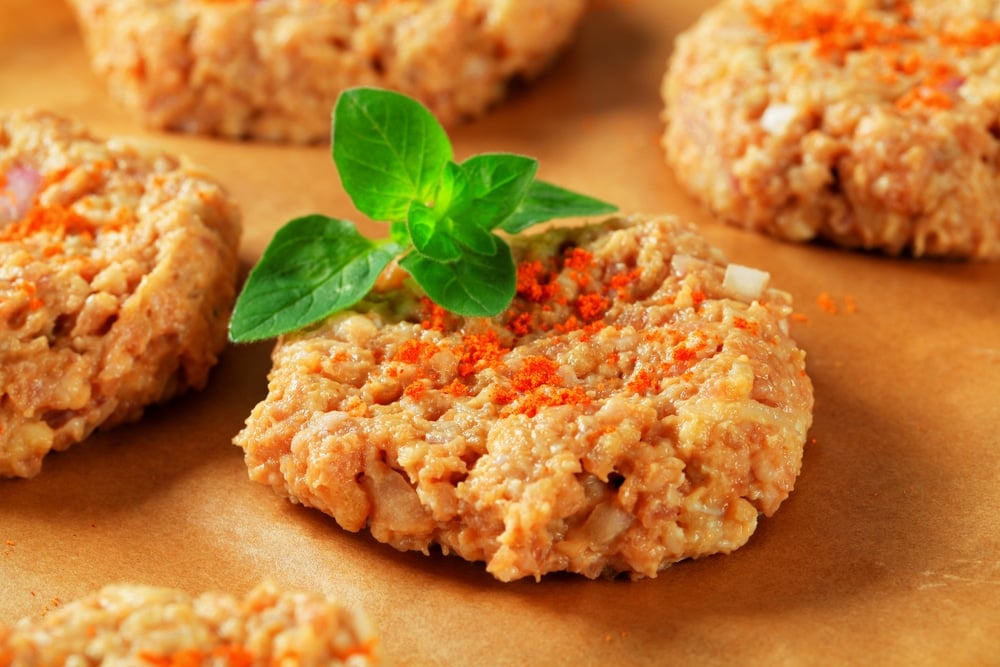 Difficulty: Medium 
Prep: 5 minutes
Cooking: 10 minutes
Servings: 6 patties
Ingredients:
½ of a cauliflower
1 tbsp coconut oil 
½ chopped onion
85g besan flour (can use chickpea or gluten-free)
1 tbsp cornstarch
½ tsp garlic powder
½ tsp salt
2 tbsp water
Directions:
Preheat the oven to 200 degrees celsius. Line a baking tray with baking paper and lightly oil using a brush or spray using coconut, olive, or MCT oil
Use a food processor or grater to crumble the cauliflower and onion
Add the cauliflower, onion, besan flour, cornstarch, garlic powder, salt, and water to a bowl and mix until fully combined
Divide the batter into 6 portions, around 3 x 2 inches each
Place cauliflower patties into the oven and bake for 40 minutes, turning them halfway, until golden brown
Recipe 5: Vegan Keto Bagels
For those who enjoy topped savoury baked goods, bagels are a great option for vegan keto breakfasts. They can be topped with vegan butter, avocado, seeds, tomatoes or anything vegan keto-friendly.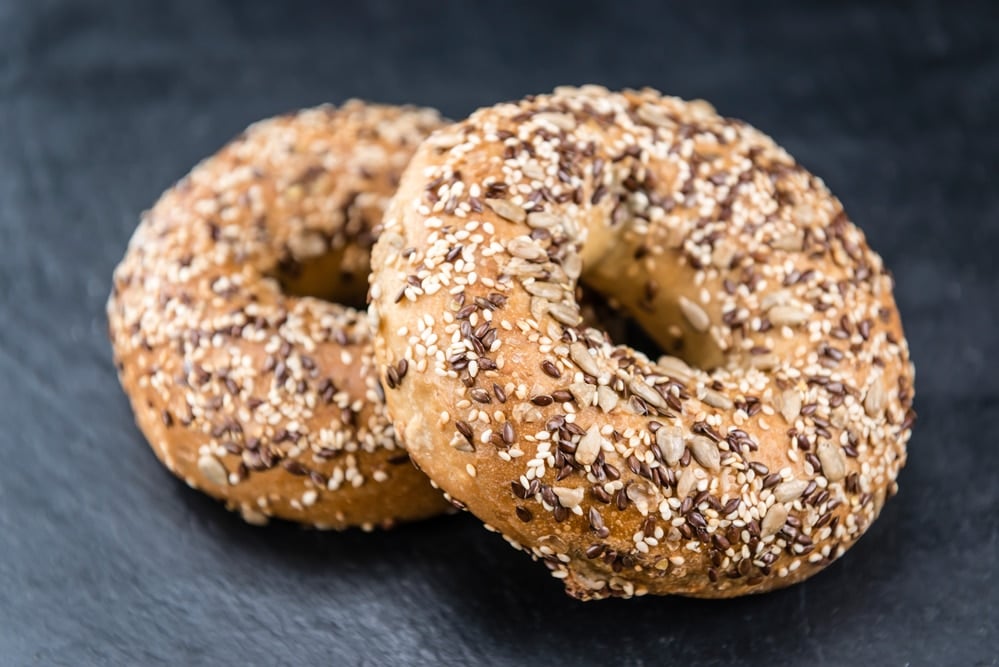 Difficulty: Medium
Prep: 10 minutes
Cooking: 40 minutes
Servings: 6
Ingredients:
56g ground flaxseed
112g tahini
30g psyllium husks
240ml water
1 tsp baking powder
Pinch of salt
Directions:
Preheat the oven to 190 degrees celsius
Add the ground flax seeds, psyllium husks, baking powder, and salt to a bowl and mix well
Combine the water and tahini and whisk until fully combined
Combine the dry ingredients to the wet and mix
Knead the mixture thoroughly on a floured surface
Create the 6 patties by forming the dough into 4-inch rounds, around ¼ inch thick
Lay on a baking tray and cut a circle away from the middle of each patty
Bake for 40 minutes, until golden brown
Once cooled, cut them in half and add your toppings
Recipe 6: Snack Bars
Vegan Keto Snack Bars are the perfect on the go option. These are sugar-free but super delicious. The bars can be tailored to your protein preference by adding additional protein powder into the mix. As well as breakfast, these are a great snack.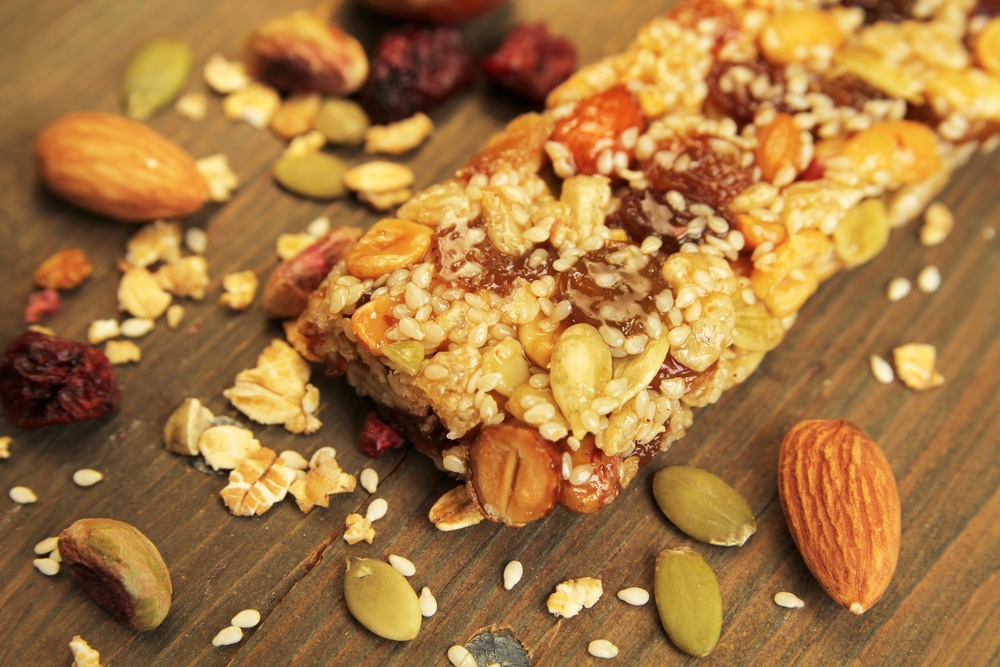 Difficulty: Easy 
Prep: 15 minutes
Cooking: 20 minutes
Servings: 6
Ingredients:
115g blanched hazelnuts
40g almond flour
1 tbsp cocoa powder
50g desired sweetener (stevia or monk fruit allulose blend)
1 tbsp nut butter
15g softened coconut oil 
Directions:
Blend the blanched hazelnuts in a food processor 
Add the almond flour, cocoa powder, sweetener, nut butter, and coconut oil and blend until a smooth paste is formed
Add the mixture to a lined loaf tin
Refrigerate for 1 hour, or until set and cut into 6 equal bars
Recipe 7: Mocha Smoothie
For those with a smaller appetite for breakfast or who like something quick and easy, a coffee smoothie is always an ideal option. This is flavoured with cocoa to give it a mocha-like flavour. Super tasty, nutritious, and energising.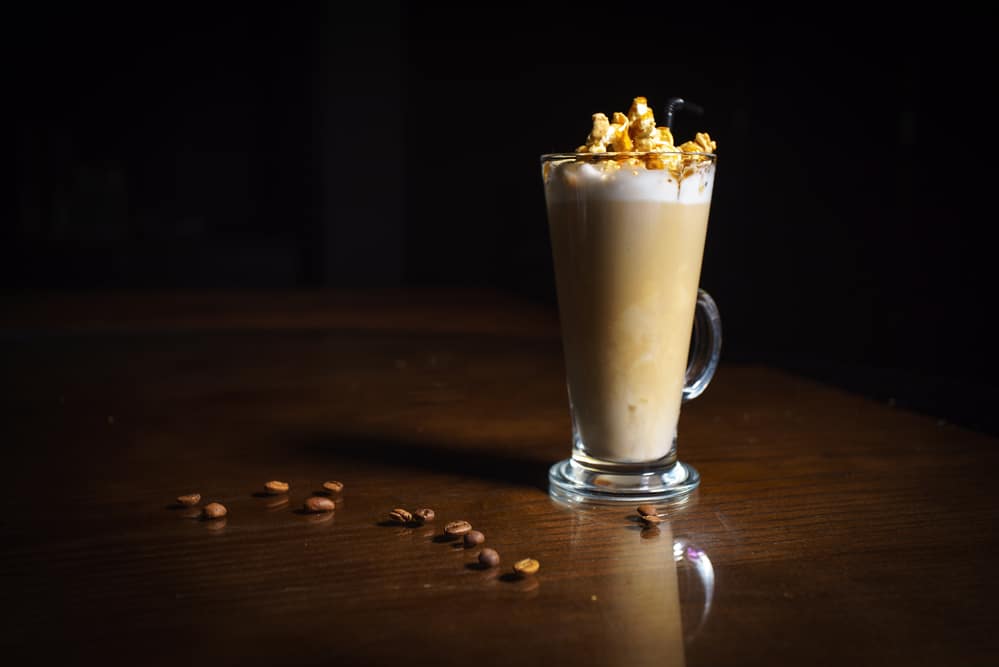 Difficulty: Easy 
Prep: 5 minutes
Cooking: 0 minutes
Servings: 1
Ingredients:
120g frozen berries (blueberries are a preferred choice for vegan keto)
7g unsweetened cocoa powder
40ml cold black coffee
260ml unsweetened almond milk 
Directions:
Place all ingredients into a blend or smoothie maker
Blend until smooth
With these recipes, you can easily substitute certain flavours and nutrients to align with your own preferences. For example, there are many different oils, herbs, spices, vegetables, and dairy-free alternatives you can change that are accepted on the vegan keto diet.  
If you have any further questions on the vegan keto diet or breakfast recipes, the below answers may satisfy that:
FAQ
What is a typical breakfast on vegan keto?
As the keto diet requires very low carb, high fat and protein-rich foods, a typical breakfast should consist of exactly that. The daily breakfast on the vegan keto diet is down to preference and can consist of cereals, tofu, smoothies, pancakes, vegetable patties, and more. 
If you choose a carb breakfast, like pancakes or bagels, it is recommended to keep the rest of your food low carb throughout the day. 
What breakfast has no carbs?
Typical no/low carb foods include eggs, vegetables, and cream cheeses. As dairy is not permitted on the vegan diet, this can be substituted for low carb options such as tofu and plant-based cheese, milk, and yoghurts. 
Is almond milk keto-friendly?
Almond milk that is unsweetened is the best option for the keto diet, as it is very low in carbs. Lower sugar drinks are better for the keto diet, so always choose the unsweetened plant-based milk. 
What else can you eat for breakfast other than eggs on the vegan keto diet?
A great alternative to eggs on the vegan keto diet is tofu. Tofu is a plant-based bean curd made from soy. It can be scrambled in a similar way to eggs, to achieve a delicious and nutritious breakfast. 
Other alternatives include a flax-seed meal, chia seeds, and nut butter. 
Most people will agree with studies, that breakfast is the most essential meal of the day. Not only does it kickstart your metabolism and give you energy, but it can also promote healthy weight loss or weight stability. 
Studies suggest that eating breakfast every day results in a person having a low body mass index (BMI). Thus, it is beneficial to eat and enjoy breakfast daily. Use the above recipes to inspire you and master the vegan keto diet. 
Feel free to share your comments or more questions with us.