For anyone seeking weight loss, the hardest part is knowing how to reach your goal and sustain it. Realistically, it can be simple to lose body weight. Dropping a few pounds in a week or two is easily reachable. But, sticking to a healthy lifestyle and maintaining your goal weight is the difficult hurdle to overcome. 
Not everyone knows exactly how to exercise, what to eat, and how to create a sustainable healthy lifestyle. It is not easy. But, with the help of this 4-week weight loss plan, you can start your journey sooner than you thought.
This plan will guide you through the best exercise and nutrition tips. It will also help you understand how to change your current habits. We will help you structure your weeks through exercise plans and nutritional help. Successfully combining these two components is what you need to reach your goal. 
Remember that not everyone needs to lose a drastic amount of weight if any at all. Always check in with your doctor if losing weight is safe or necessary for you before beginning this plan. 
Before we begin, here's a little bit more about why this guide is unique and important:
My name is Raynisha Nicole. I have been a writer and fitness coach for over 5 years. In that time, I have been helping people to achieve their health goals by sharing my knowledge, experience, and motivation.
I have been through quite a transformation in both weight and appearance myself. Thus, I only found it fair to share this with you. In this way, you can achieve as well what you've wanted for your physique all along. Before we start, I will tell you one secret: once you have the right tools and motivation, you're halfway there (and I'm about to share them with you). Let's get started.
Welcome to the guide. Here, you will find everything and more you need for your personal journey. From the best exercises, how to perform them. and when to do them. As well as that, this guide includes nutrition advice and all of the help you will need to get started and stay motivated on your journey.
This workout program is a 4-day split focusing on losing fat and toning. These workouts in this program should take around 30 to 45 minutes so they are quick and effective. Feel free to repeat this guide after the full week is over and switch up the workouts as needed for maximum results.
Your Goal: Repeat this workout plan for four consecutive weeks to validate the challenge.
To get started, you will need to acknowledge the best tips for performing the exercises:
How To Get The Most Out of Exercise
You can workout anywhere, from your home, outside, to the gym. We can all perform the exercises we know to reach out goal. But, what matters is how to get the most out of your exercise.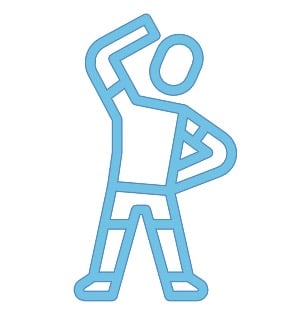 How To Warm-up 
Make sure to always warm-up before lifting or working out. Start with a general 5-10 minute warm-up followed by dynamic stretching movements. 
This could be jogging or running in place. This should be 5 to 10 minutes of back to back exercises such as squats, jumping jacks, side leg swings, forward leg swings horizontal arm swings, giant arm swings, high knees, mountain climbers, pushups, ankle circles, etc.
=> Check our Best Warm-Up and Stretching Exercises List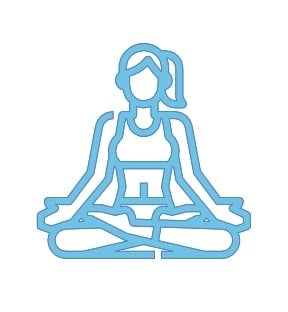 How To Cooldown 
For a cool down, gentle movements such as again jogging on a treadmill, a light jog in place or the stair climber is effective. Then, follow this with static stretching. 
Static stretching is when the stretch is held in a challenging but comfortable position between 10 to 30 seconds. This improves flexibility and range of motion. 
These include things such as a kneeling hip flexor, hamstring stretch, butterfly stretch, squat stretch, quad stretch, bicep stretch, tricep stretch, side neck bend, calf stretch, chest stretch, etc.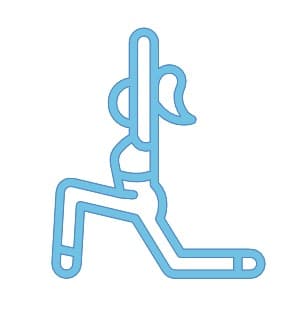 How To Follow The Exercise Guides
Each exercise listed includes the number of reps (repetitions) and sets for each as well as how much rest to take in between each exercise. 
For each circuit, the directions will be listed on how many rounds to complete. The goal of circuits and conditioning is to get your heart rate up and try to do the exercises back to back without stopping until you have finished. 
After the circuit is complete you want to allow 1 to 2 minutes of rest and get right back into another circuit. 
Now, let's get into the exercise routines. First, starting with the ideal weekly exercise routine for women:
Weight Loss Workout Plan for Women
Exercise is a key part of this journey. Not only will it help you obtain your goal but it is an important factor for a healthy lifestyle. 
It is recommended to complete four workouts per week. The schedule to follow is:
Day 1 – Monday
WARM UP
High Knees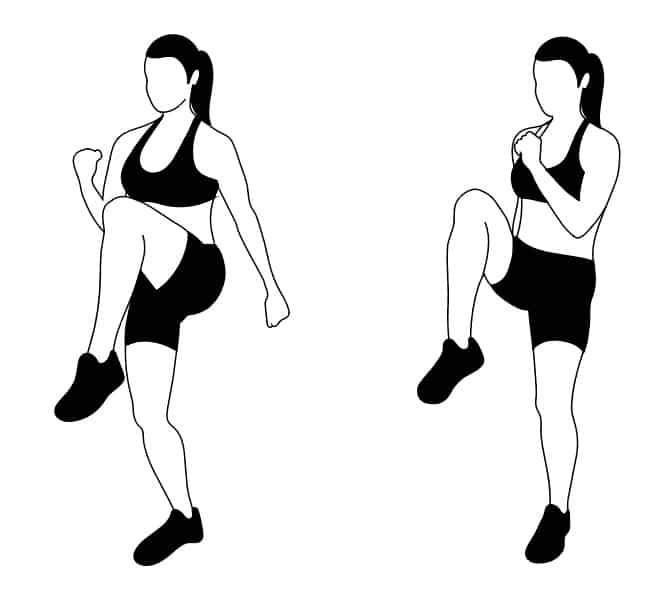 3×12
Jumping Jacks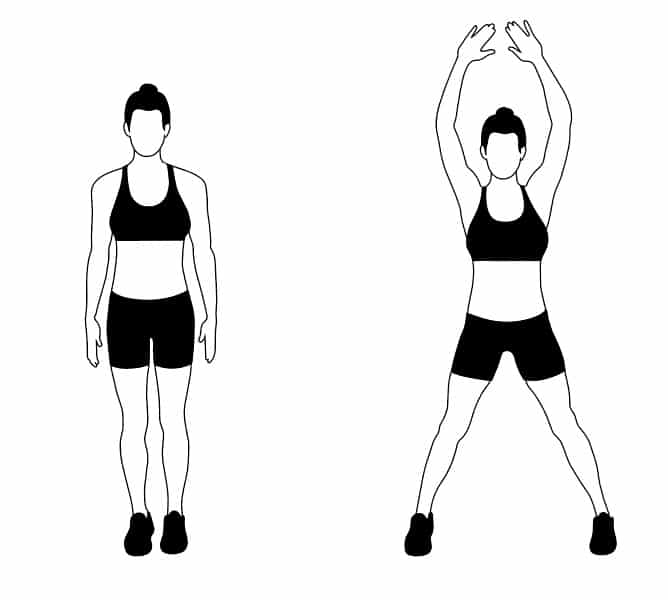 3×25
Squats w/ Arm Reach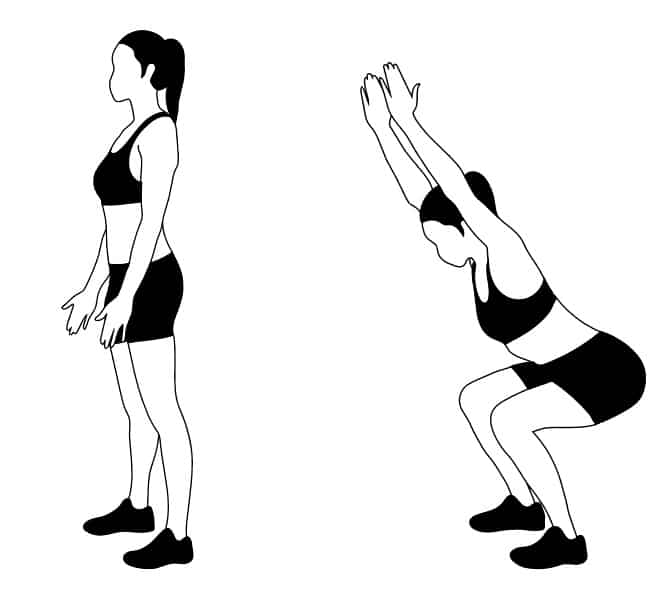 3×12 
FOLLOW WITH STRETCHING
WORKOUT – CIRCUIT 1
Banded Sumo Squats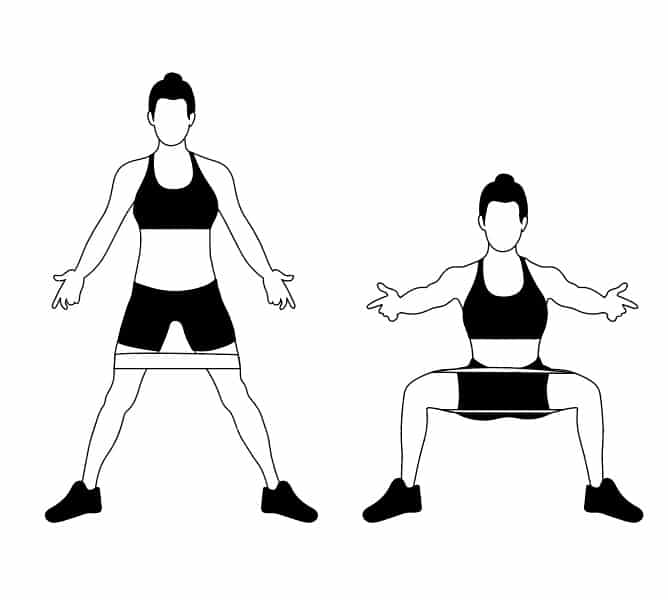 X10
Banded Good Mornings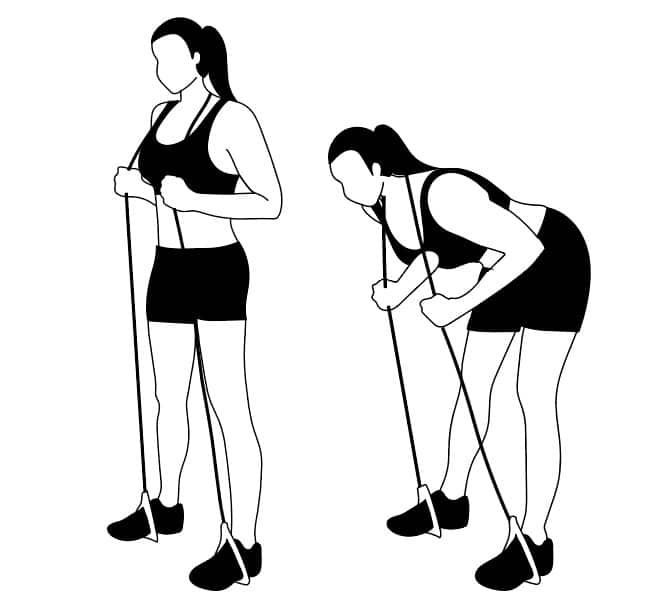 X10
Cross-Body Crunches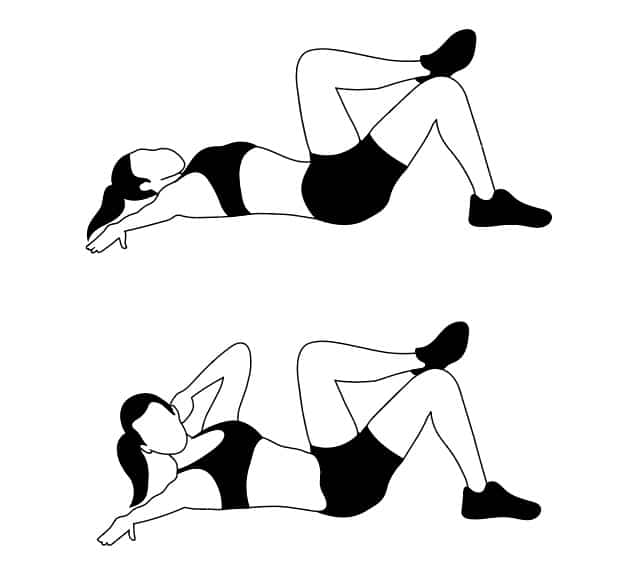 x10/side
Banded Lateral Lunges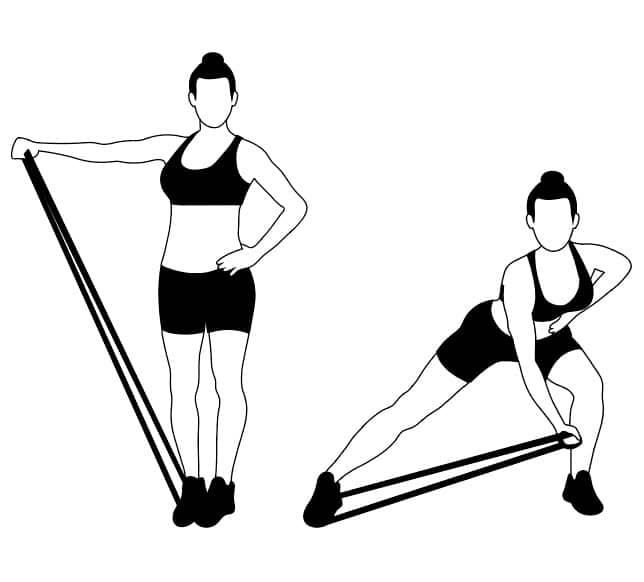 3X10
Mountain Climbers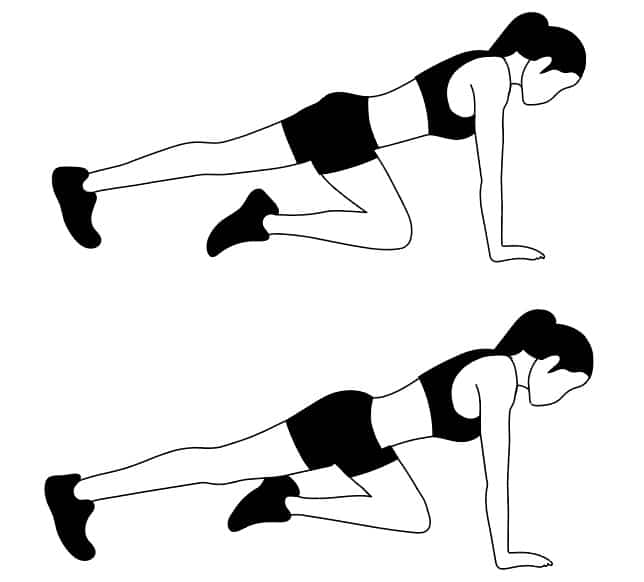 3X10
REPEAT 3 TIMES
WORKOUT – CIRCUIT 2
Pulse Squats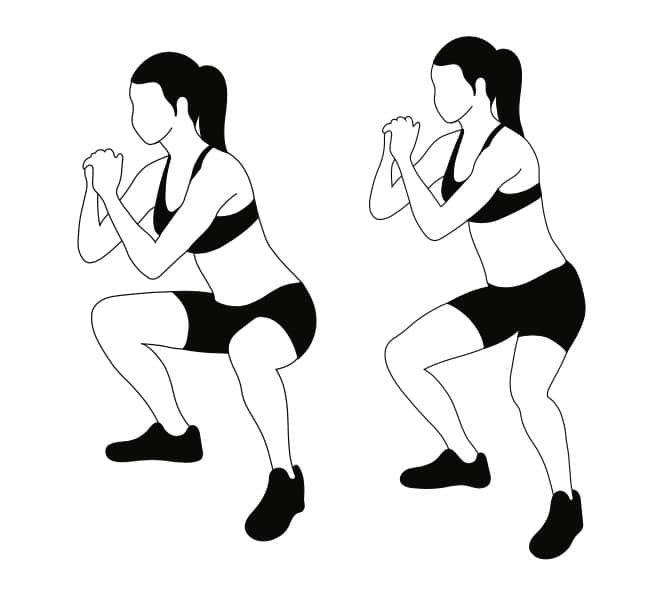 X12
Toe Taps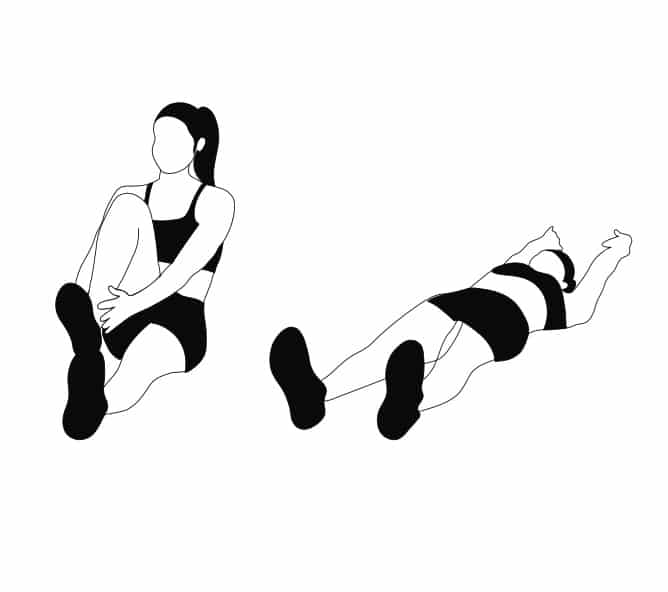 X12
Froggie Pumps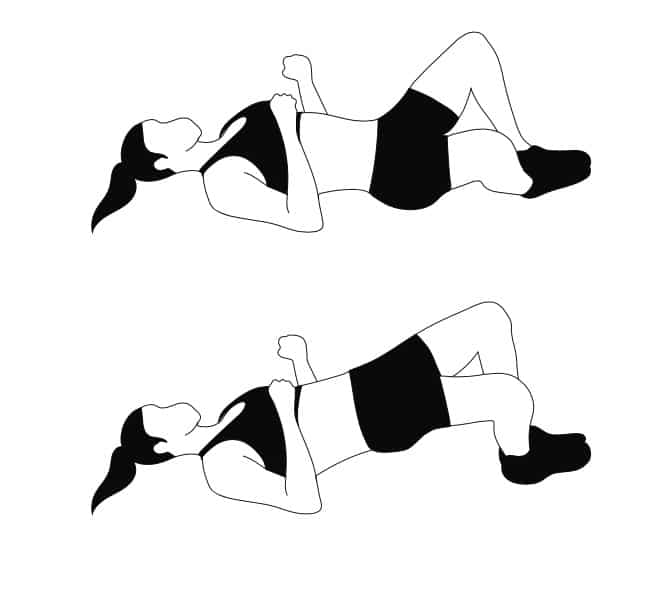 X12
Jump Squats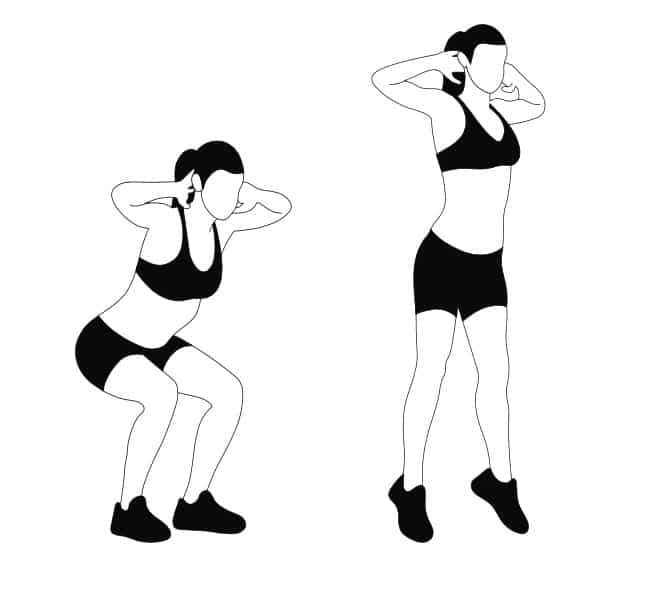 X12
Plank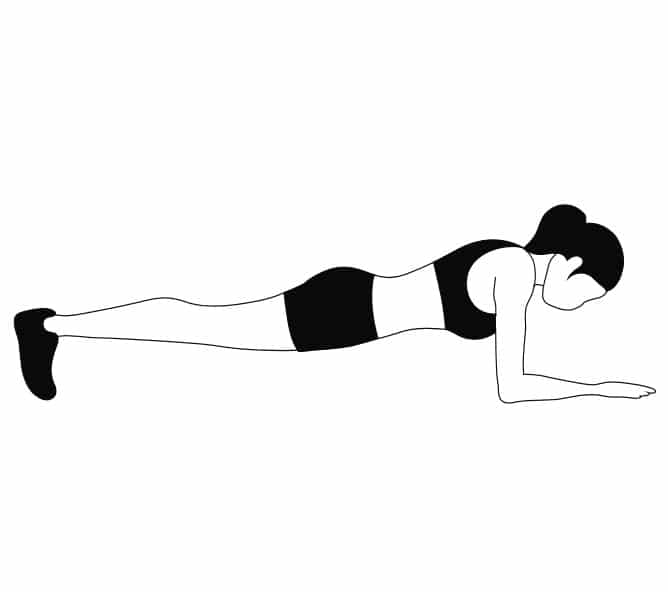 60 SEC
REPEAT 3 TIMES
Finish with cool-down stretching
Day 2 – Wednesday
WARMUP
Leg Swings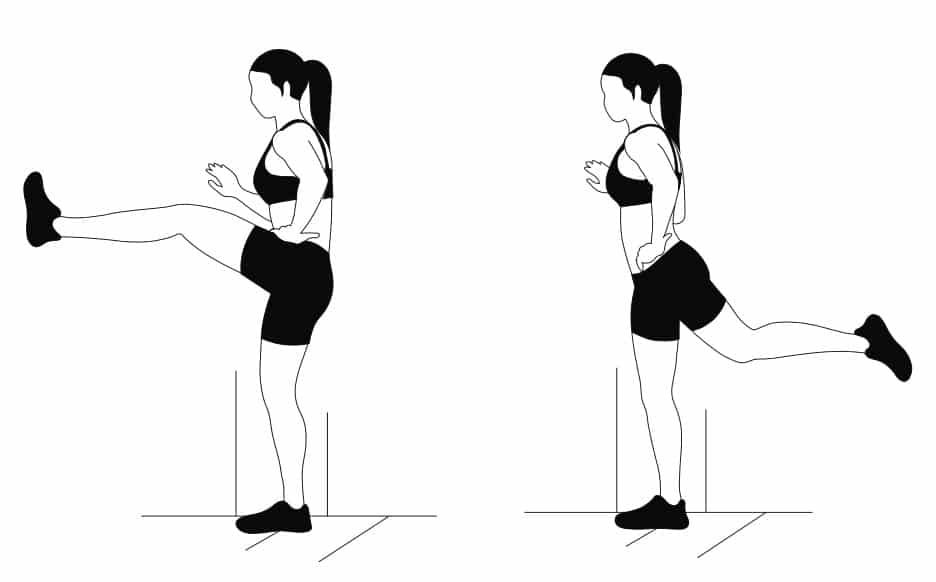 3×12/side
Arm Swings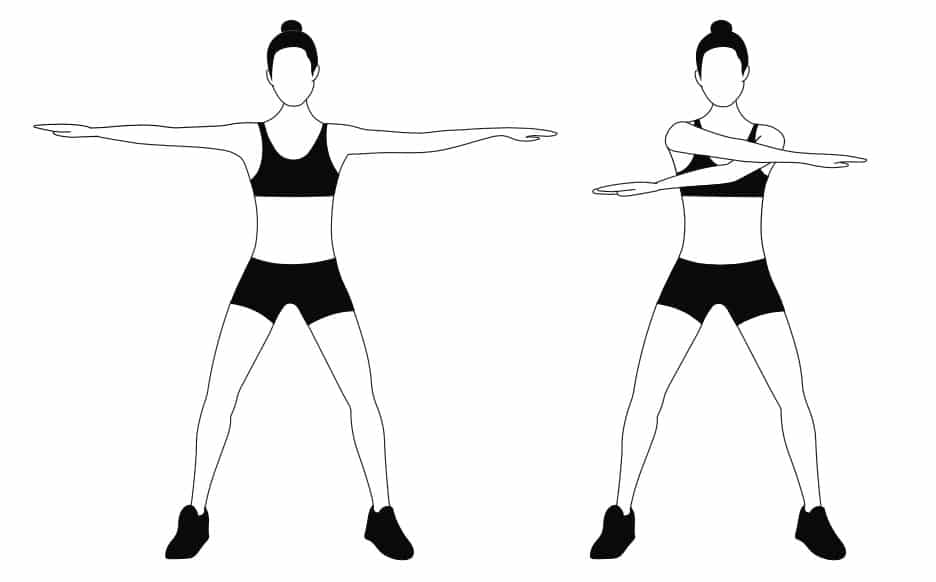 3×12/side
Jumping Jacks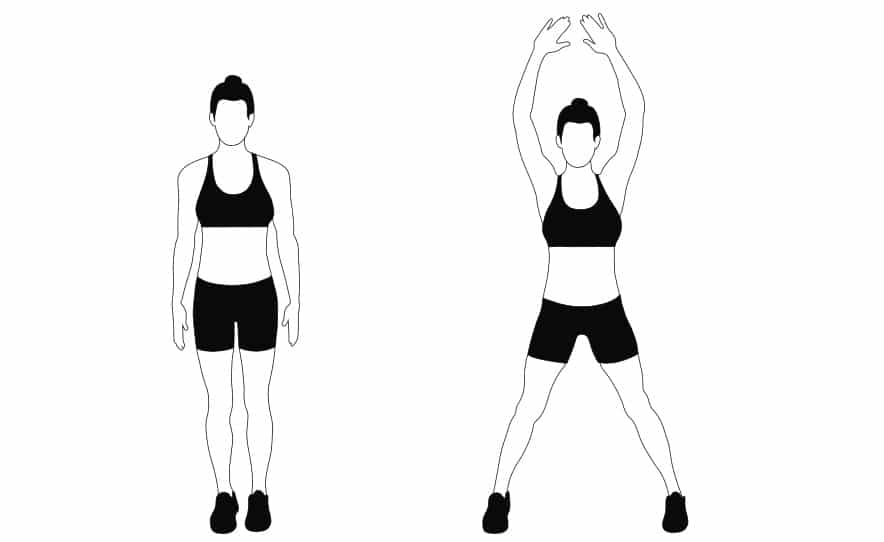 3×25
FOLLOW WITH STRETCHING
WORKOUT – CIRCUIT 1
Jacks to
High Knees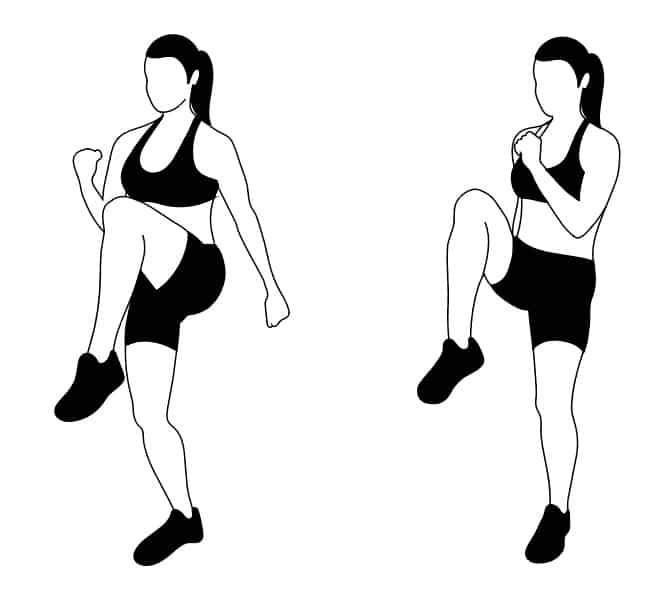 X10
Wide Hands
Push-Ups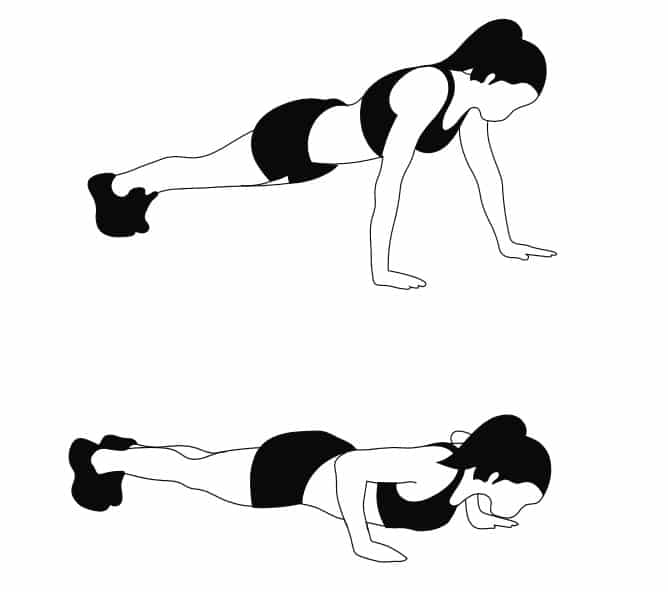 X10
Banded
Pull-Aparts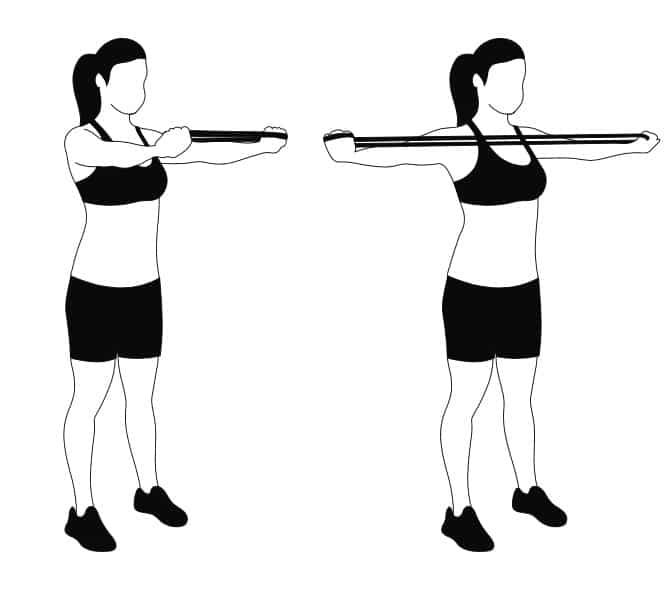 X12
Walking
Lunges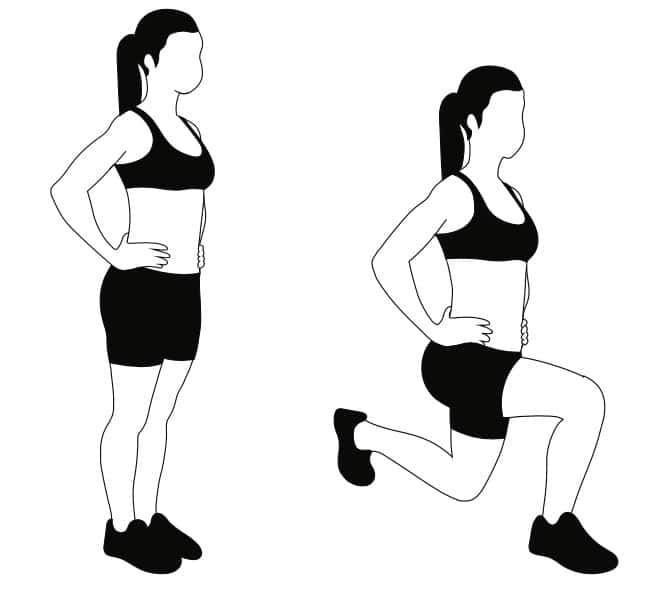 X10/side
Plank
(Holding)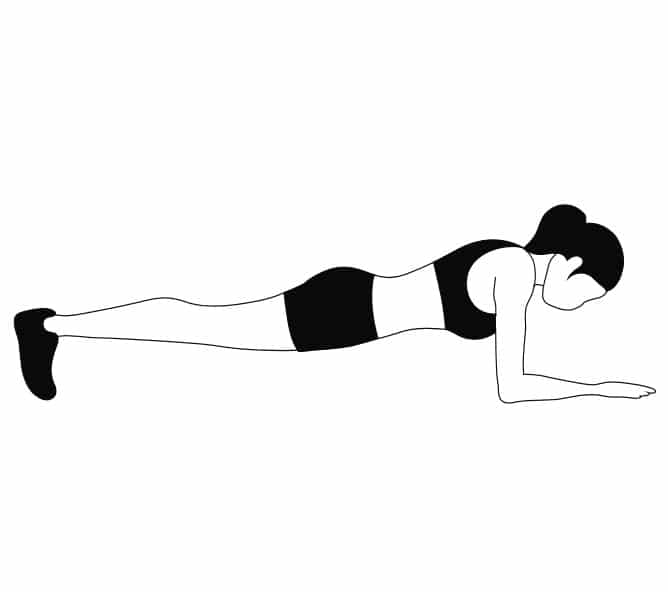 60 SEC
REPEAT 3 TIMES
WORKOUT – CIRCUIT 2
Crunches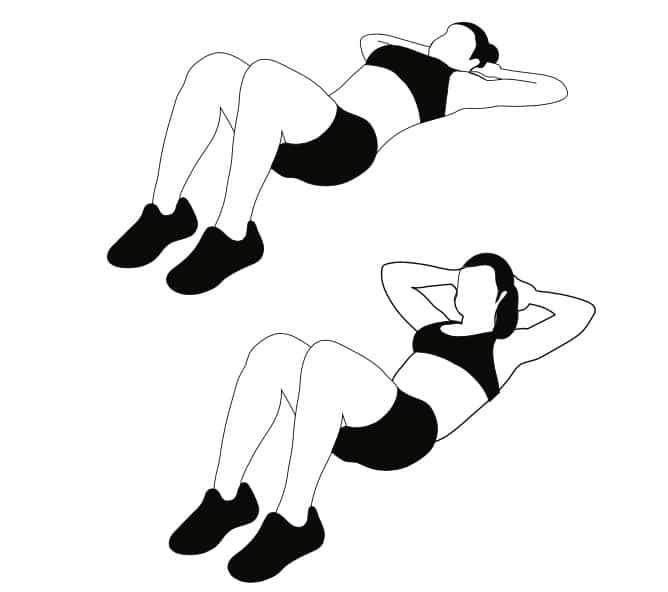 X10
Lateral
Leaps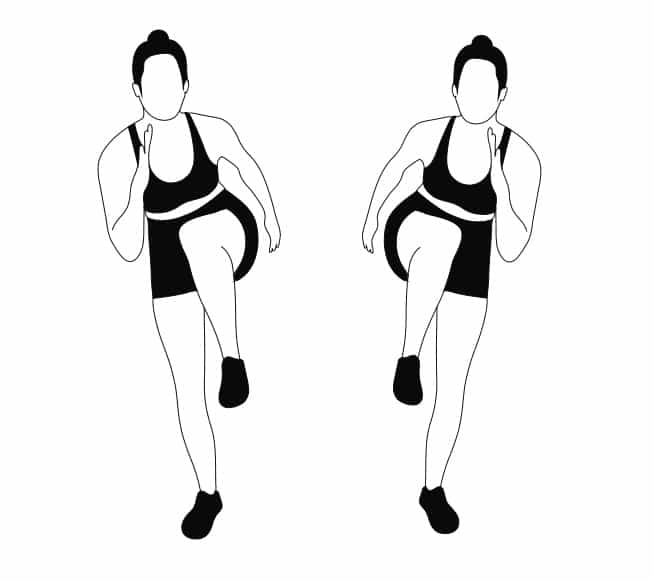 X10
Leg
Raises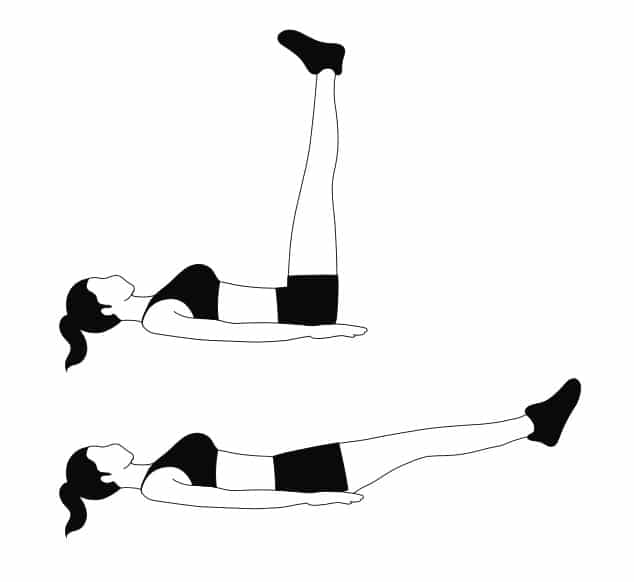 X10
In/Out Jump Squats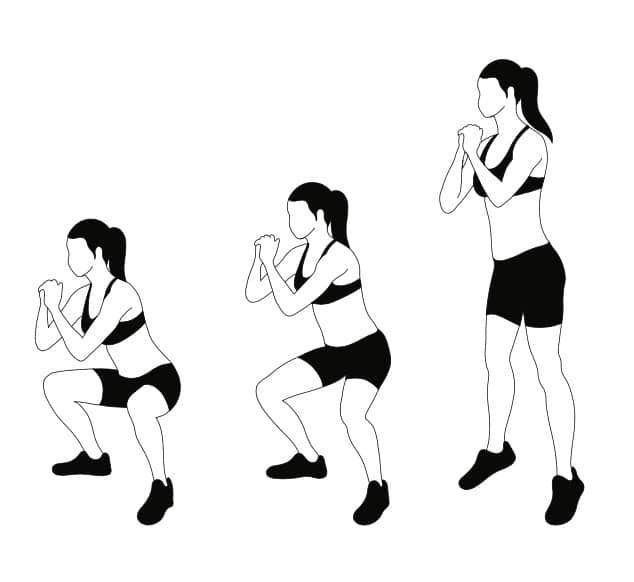 X10
Russian
Twists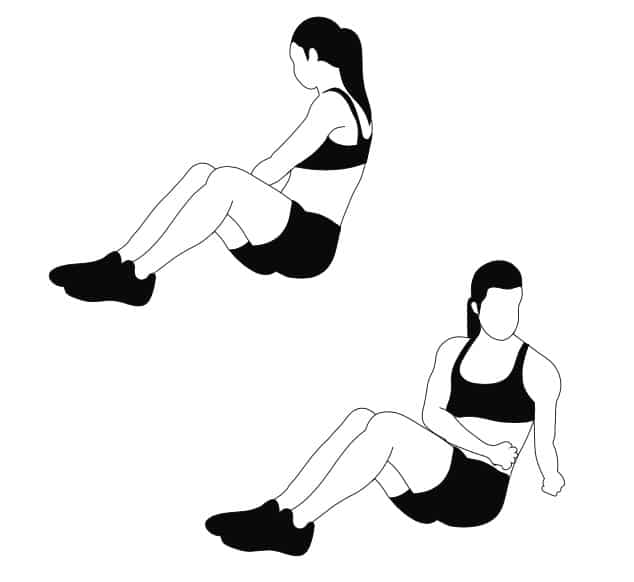 X12
REPEAT 3 TIMES
Finish with cool-down stretching
Day 3 – Friday
WARMUP
Kickbacks
3×12
Arm Swings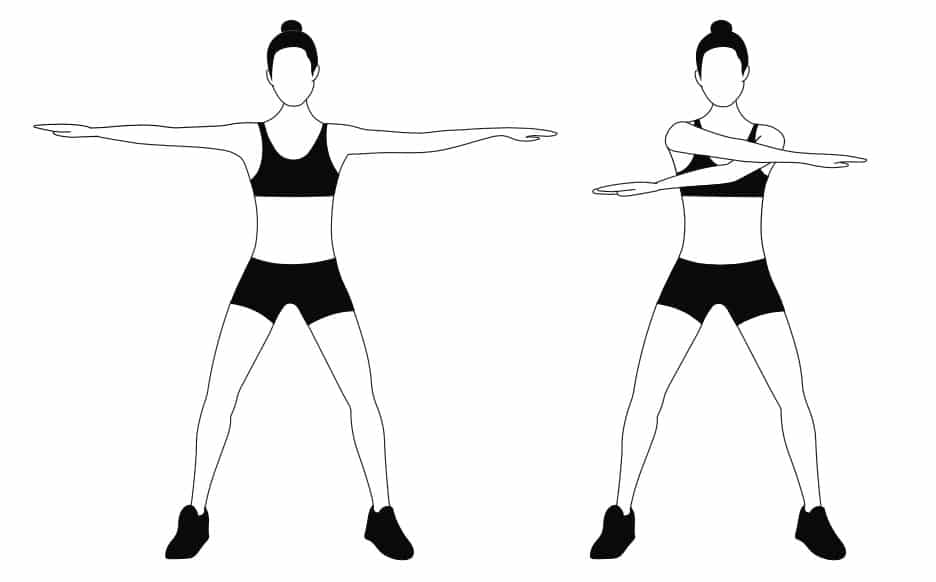 3×12
Jump Squats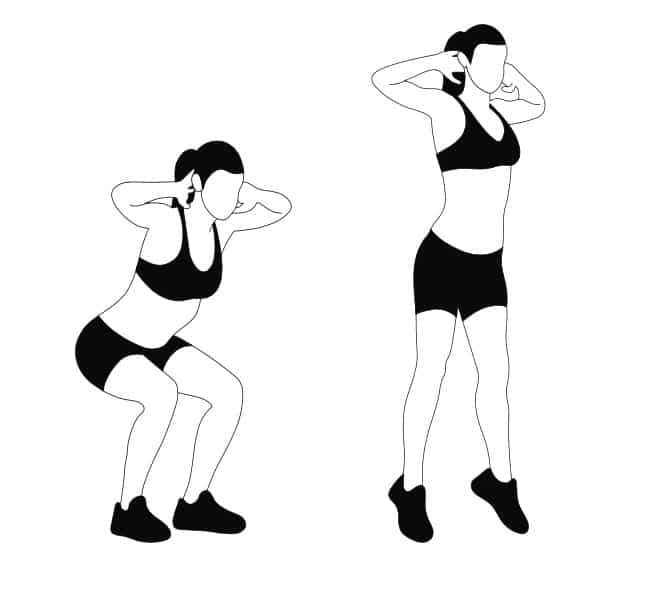 3×12
FOLLOW WITH STRETCHING
WORKOUT – CIRCUIT 1
Banded
Splitter
X10
Split
Squats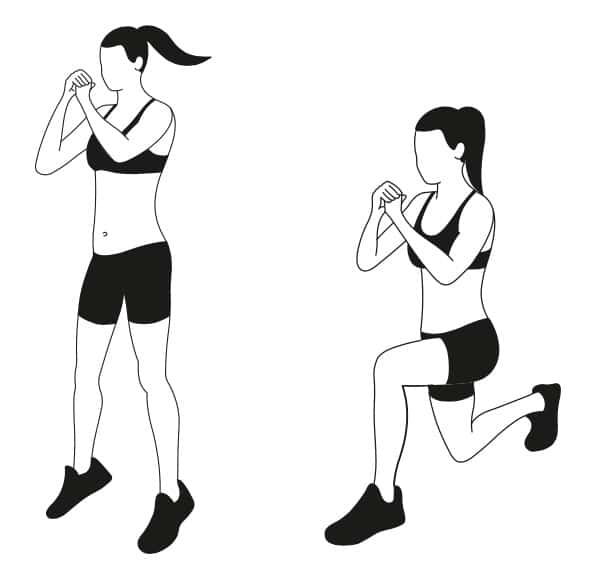 x10/side
Squat to Core Twist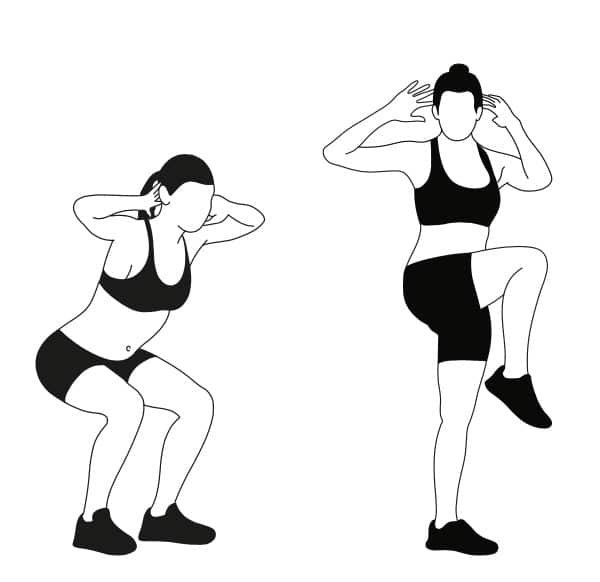 x10/side
Banded Reverse Lunge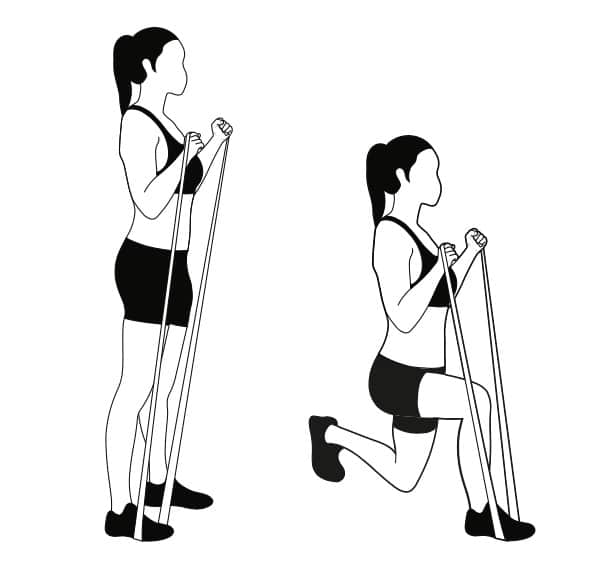 X10
Squat w/ Arm Reach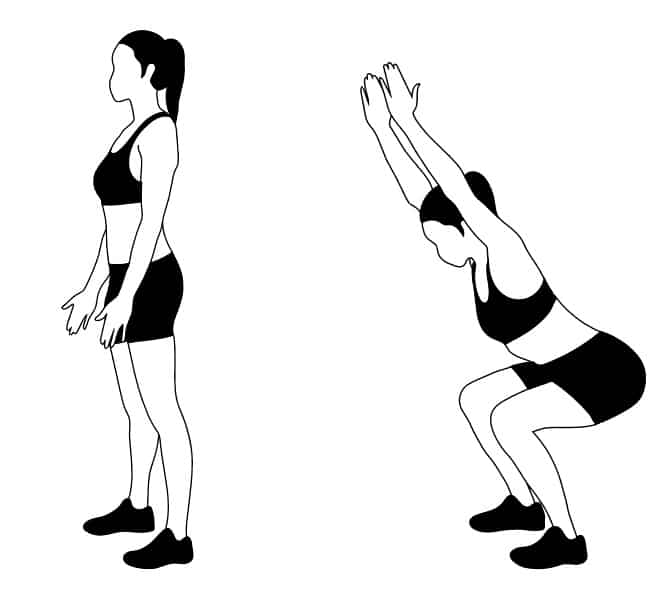 X12
REPEAT 3 TIMES
WORKOUT – CIRCUIT 2
High
Knees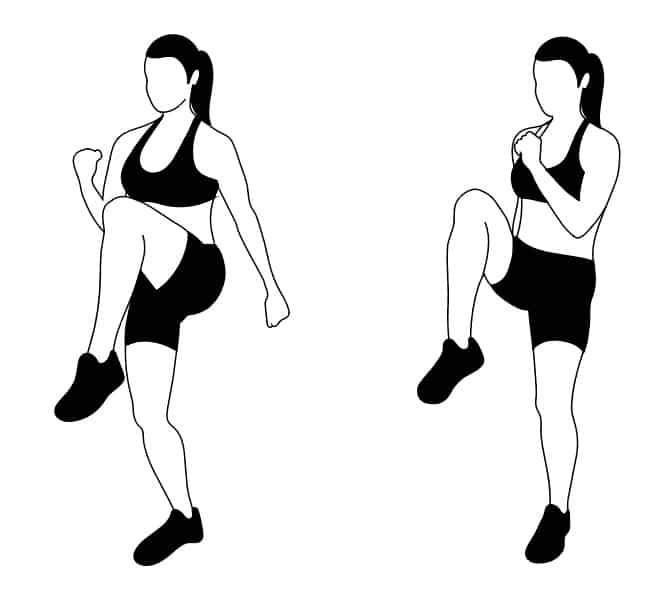 X15
Crunch
w/ Hold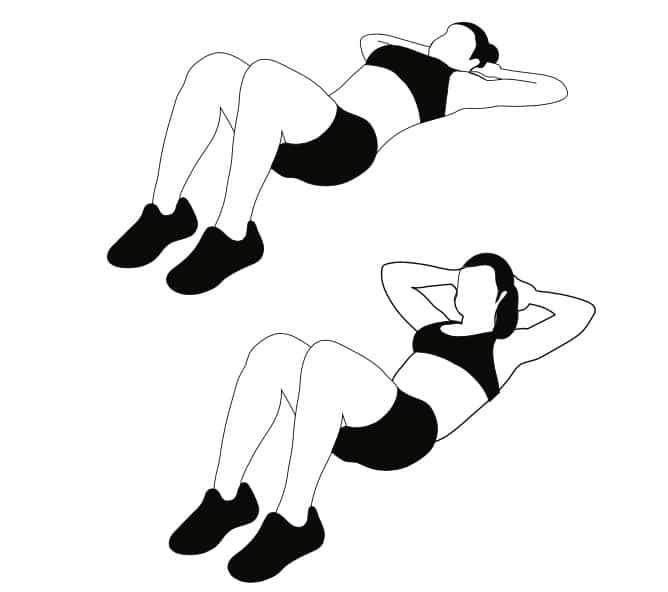 X10
Jump
Lunges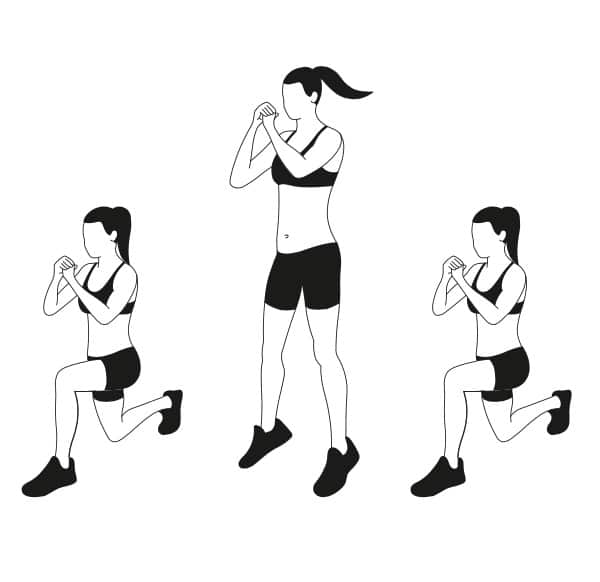 X10/side
Alternating Leg
Raises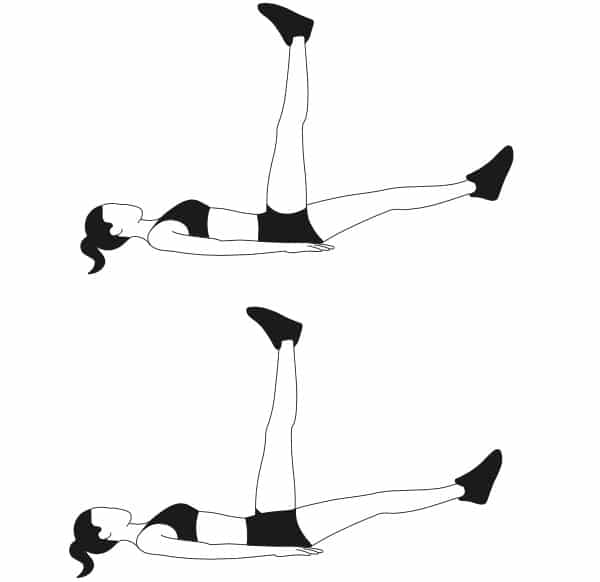 X10
Mountain
Climber Twists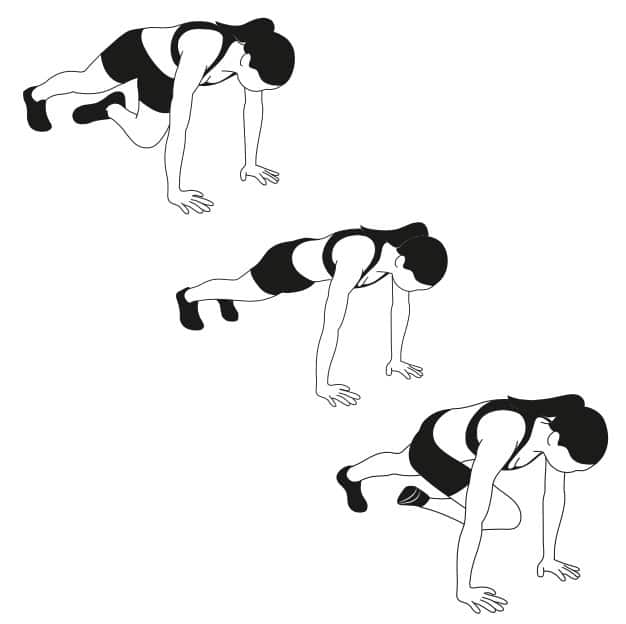 X12
REPEAT 3 TIMES
Finish with cool-down stretching
Day 4 – Weekend (HIIT)
WARMUP
Skaters
3×12
Jump Lunges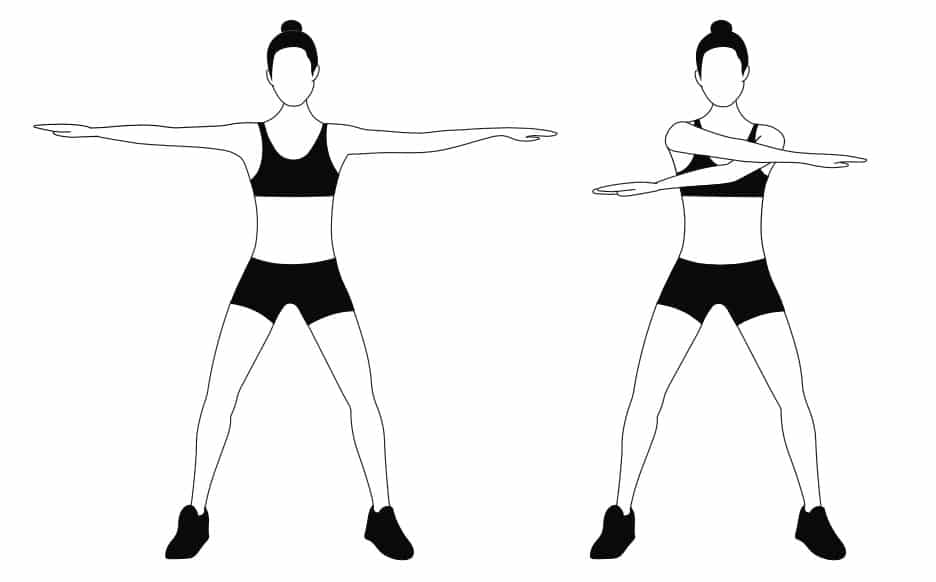 3×12
Giant Arm Swings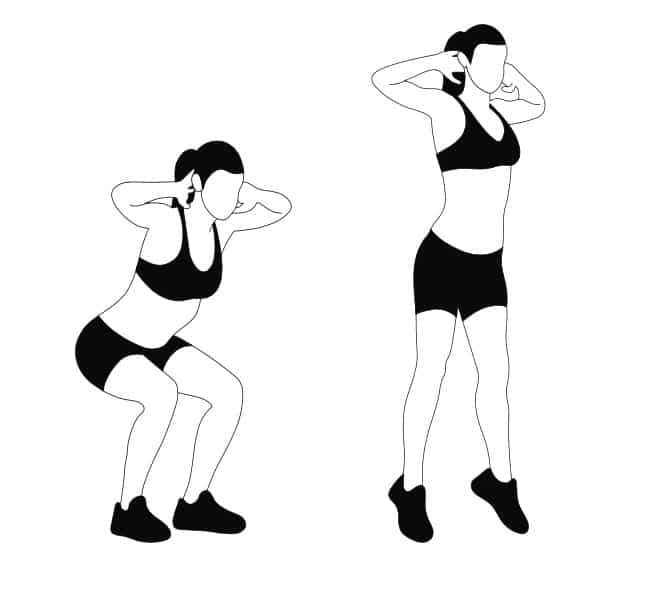 3×12
FOLLOW WITH STRETCHING
WORKOUT – CIRCUIT
Squat Pumps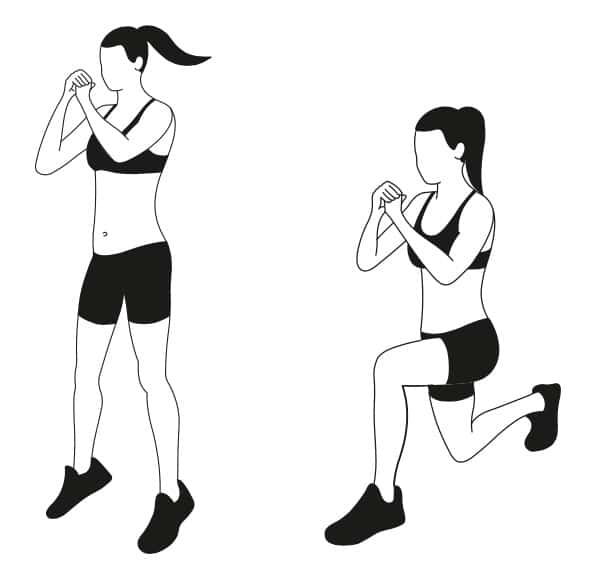 X12
Half Burpees
X10
Bicycle Crunches
X12
Toe-Touch Crunches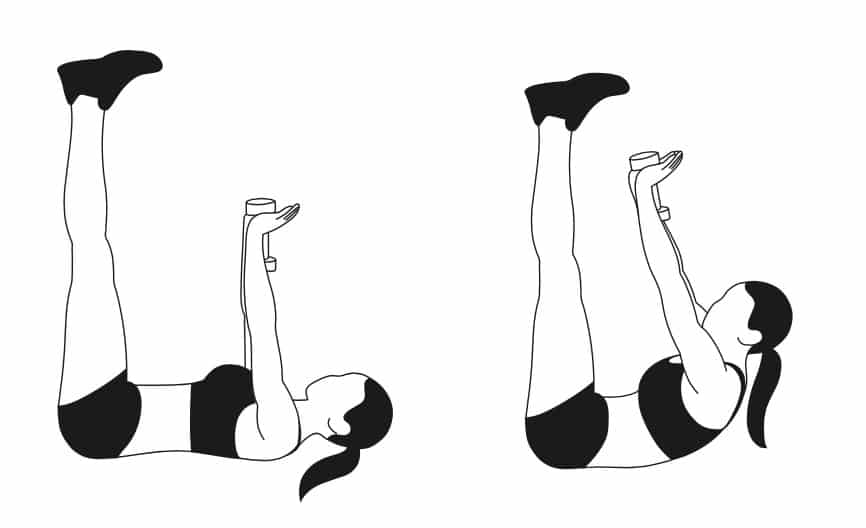 X10
Mountain Climbers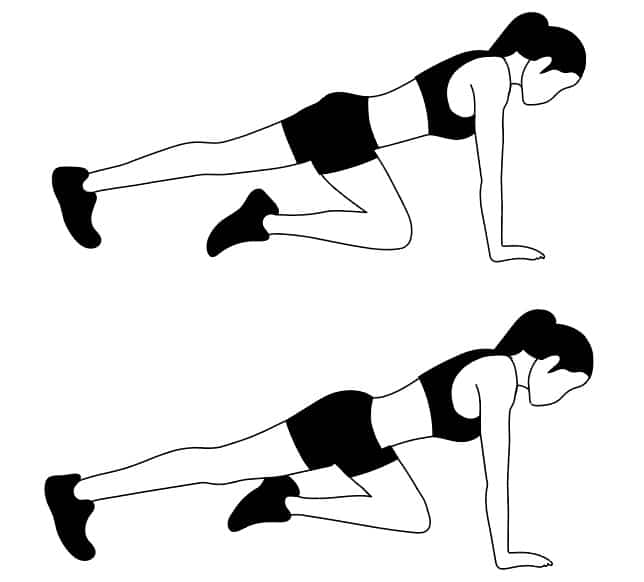 X10
Plank
60 SEC
REPEAT 3 TIMES
Finish with cool-down stretching
Workouts in this plan for women are slightly different from men. This is due to women releasing less protein during a workout than men. Thus, men maximize their results by completing more muscle and strength training exercises. 
But, you can complete either set of workouts. It depends on your end goal. As long as you complete four days per week, for four weeks.
See below for the male workout schedule:
Weight Loss Workout Plan for Men
The men's workout schedule consists of more muscle training and full-body movements. A wider range of upper body arm movements is included here. Men benefit more from these exercises than women, due to the differentiation in lean muscle mass. 
The weekly routine is as follows:
Day 1 – Monday
WARM UP
High Knees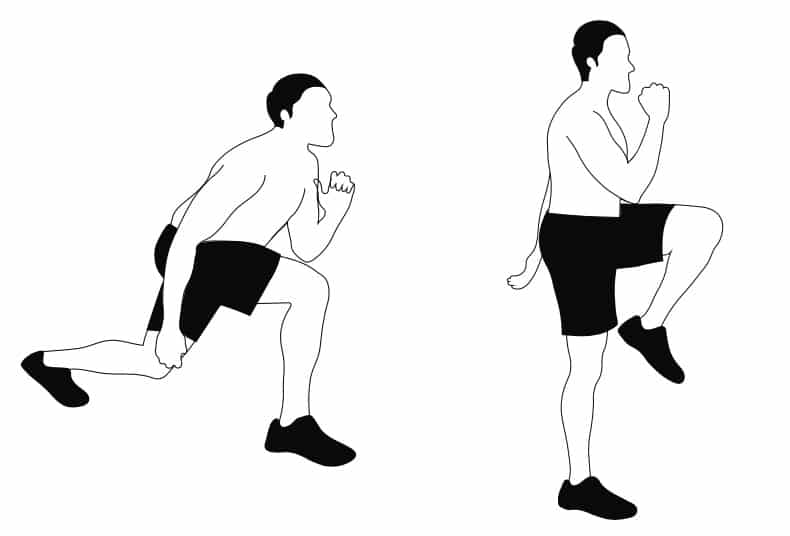 3×12
Jumping Jacks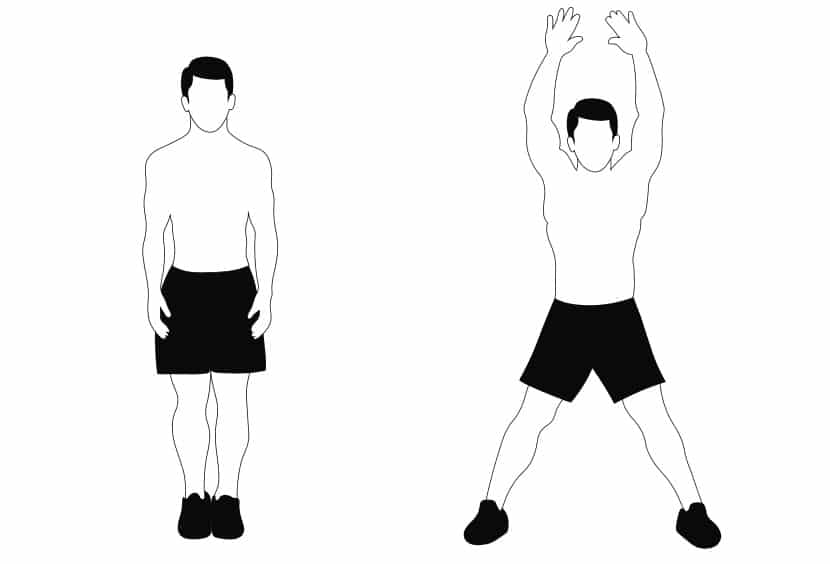 3×25
Jump Lunges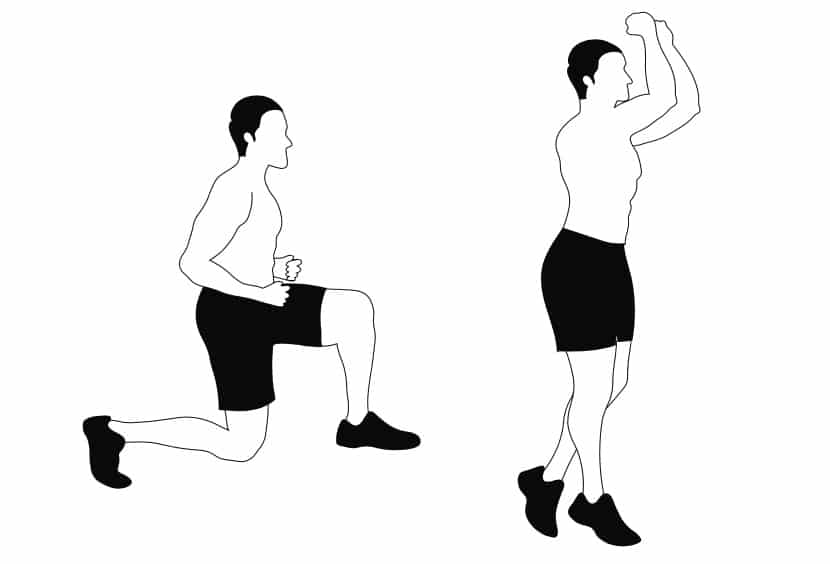 3×10
FOLLOW WITH STRETCHING
WORKOUT – CIRCUIT 1
Banded
Squats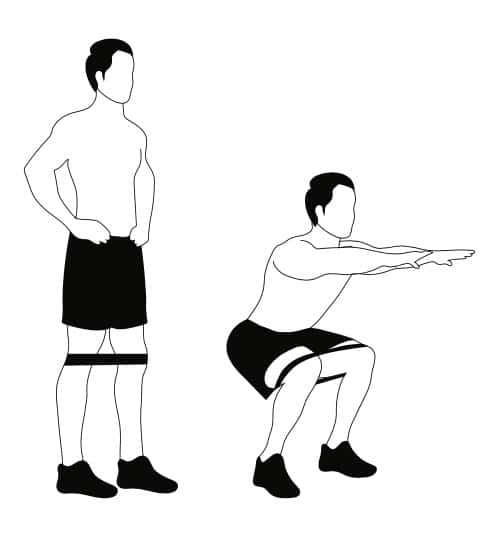 X10
Banded
Lunges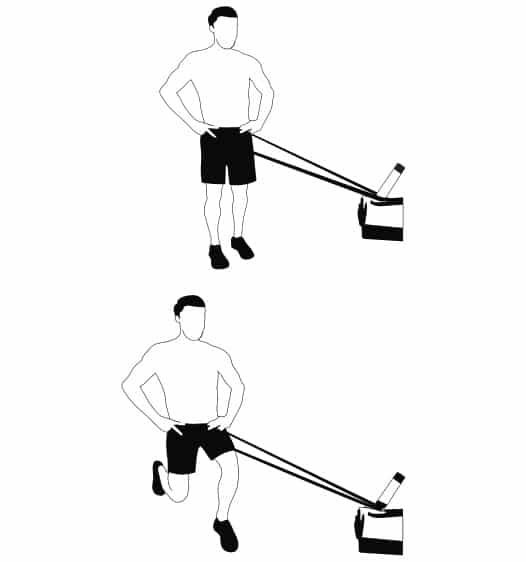 X10
Shoulder
Taps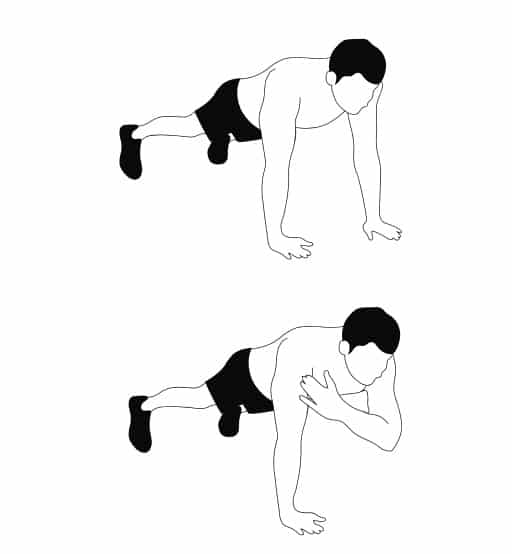 x10
Lying Reverse Fly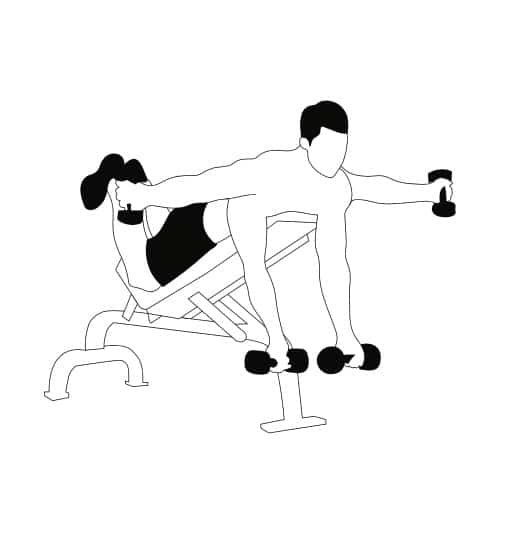 X10
Push-ups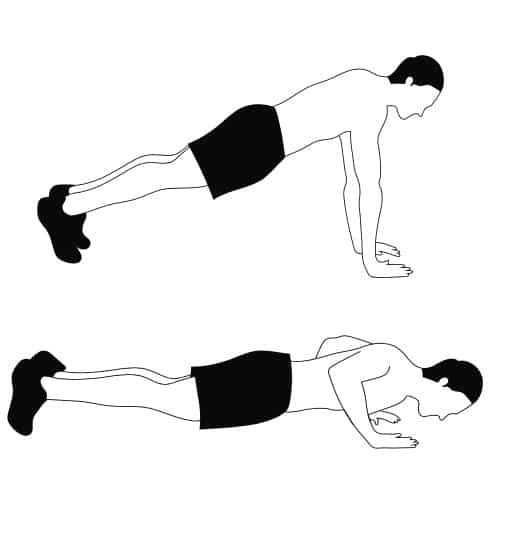 X10
REPEAT 3 TIMES
WORKOUT – CIRCUIT 2
Burpees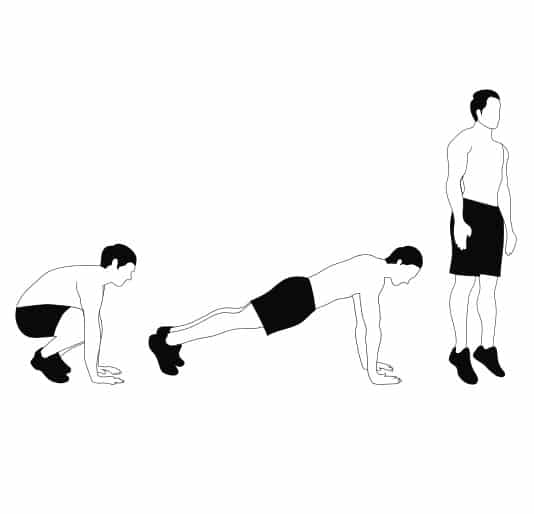 X10
Toe
Taps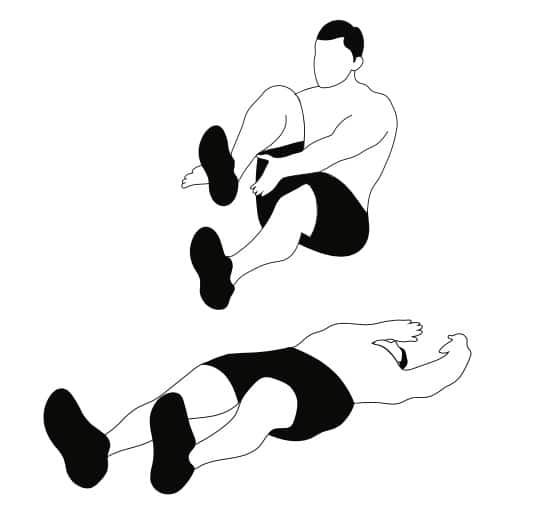 X12
Walking Push-Ups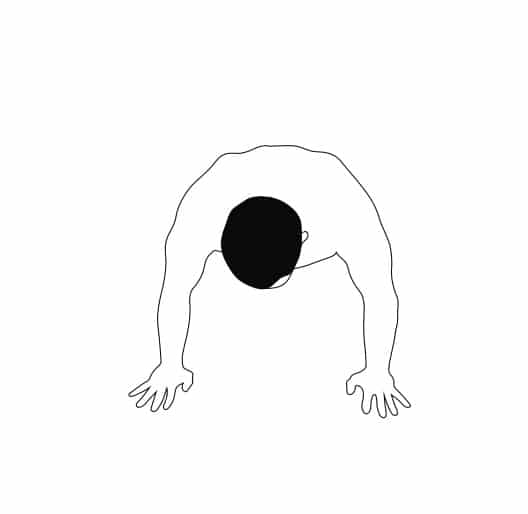 X12
Mountain Climbers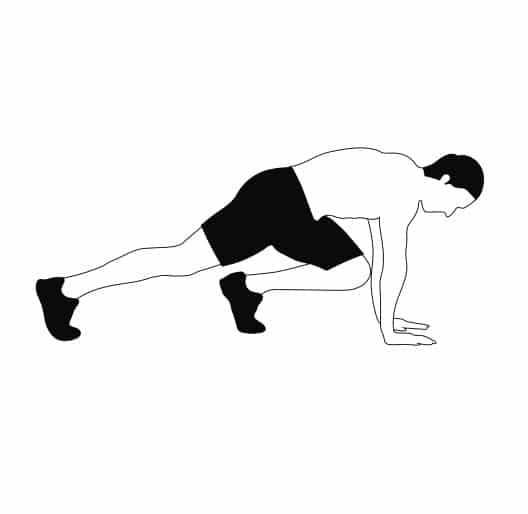 X12
Star
Plank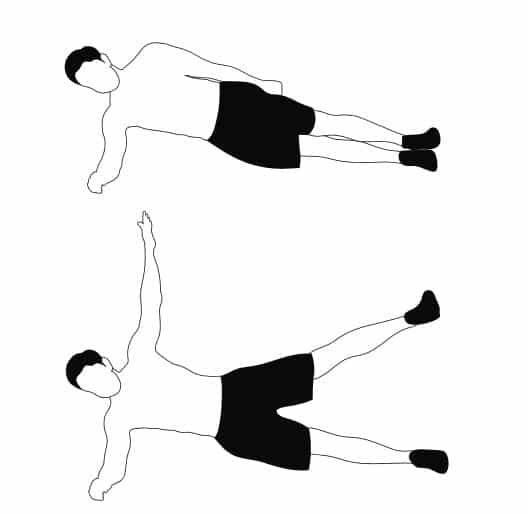 60 SEC
REPEAT 3 TIMES
Finish with cool-down stretching
Day 2 – Wednesday
WARMUP
Leg Swings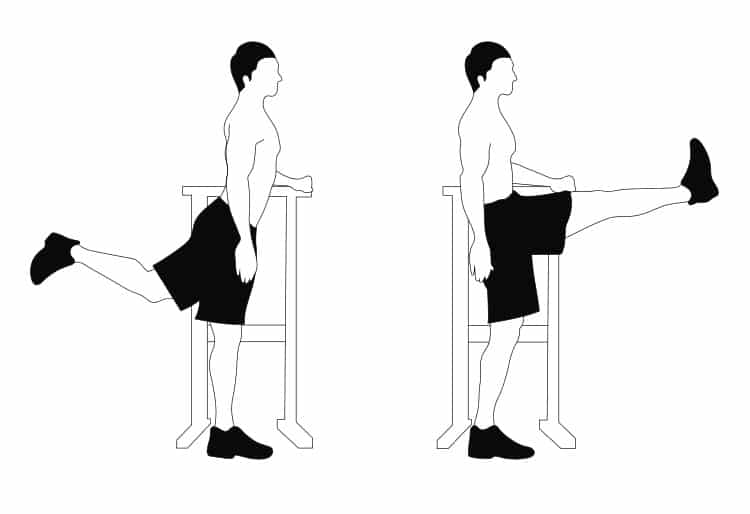 3×12/side
Arm Swings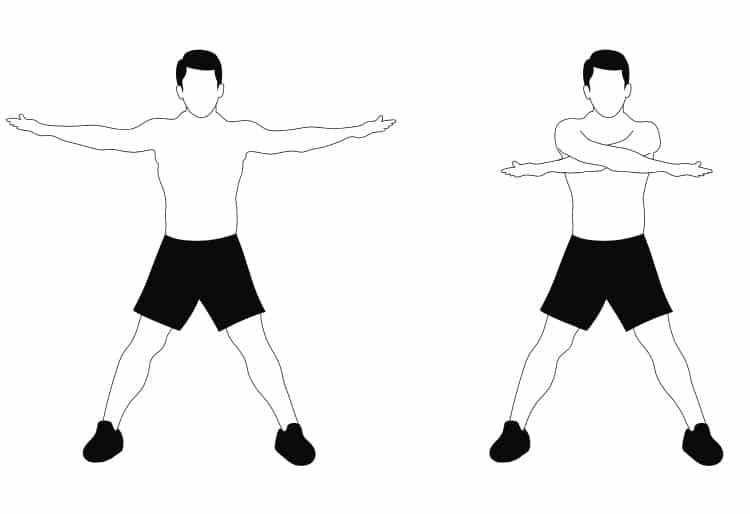 3×12/side
Half Burpees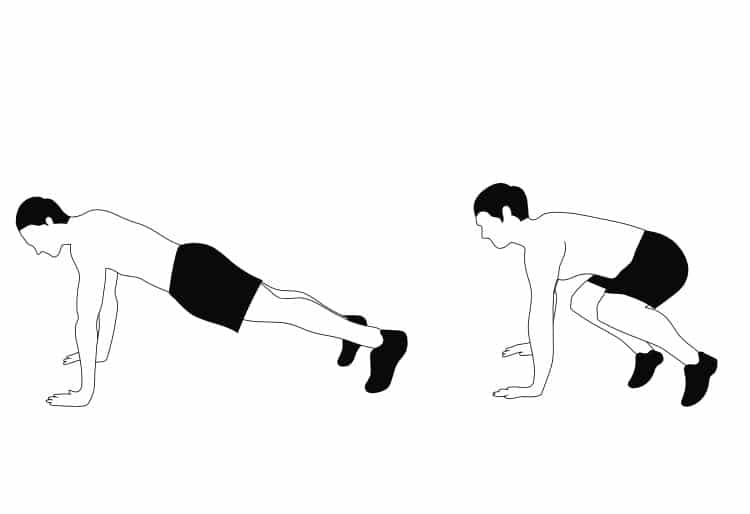 3×25
FOLLOW WITH STRETCHING
WORKOUT – CIRCUIT 1
Jacks to
High Knees
X10
Wide Hands
Push-Ups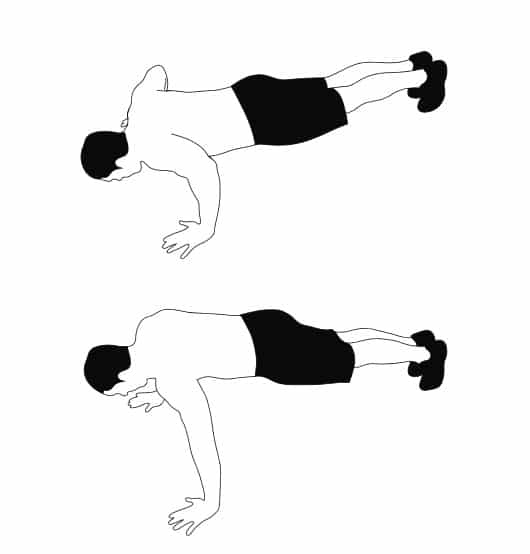 X10
Banded
Pull-Aparts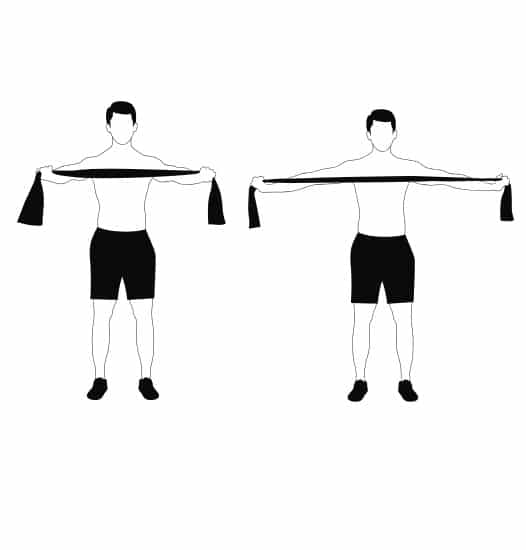 X12
Side
Bridges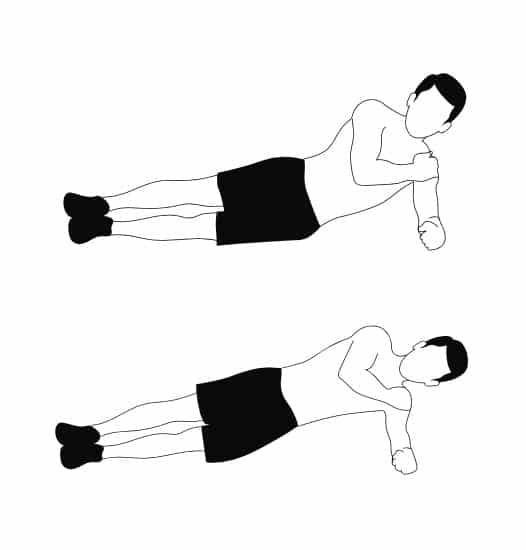 X10/side
Plank Leg
Raises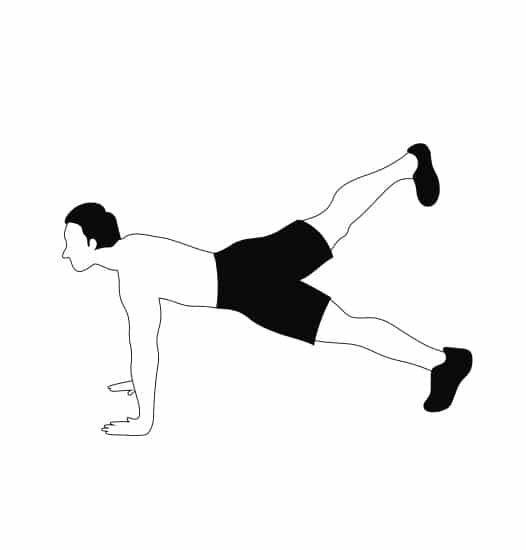 60 SEC
REPEAT 3 TIMES
WORKOUT – CIRCUIT 2
Crunches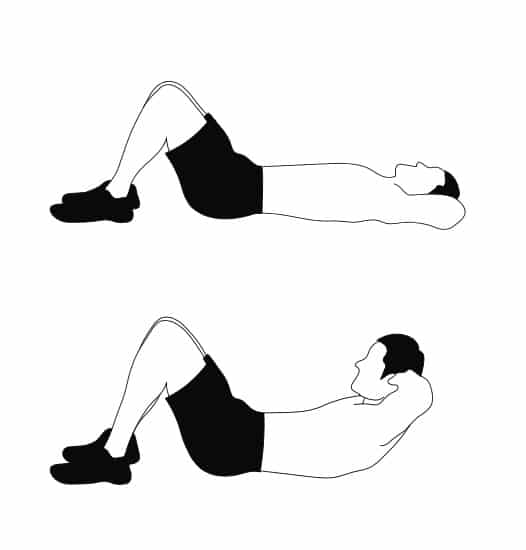 X10
Lateral
Leaps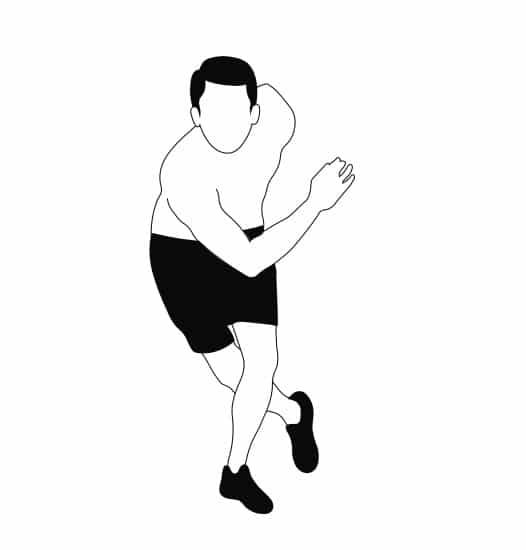 X10
Leg
Raises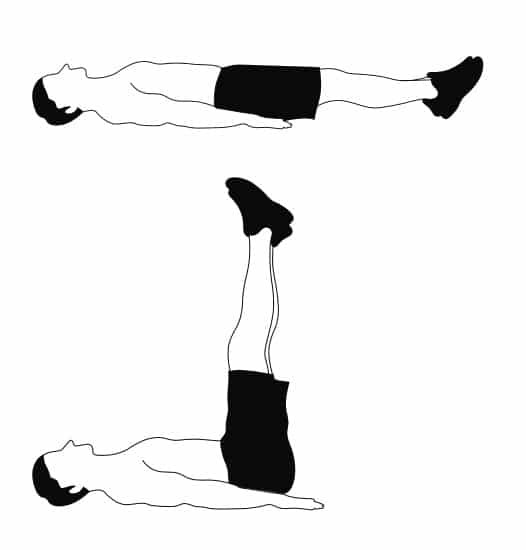 X10
V-sits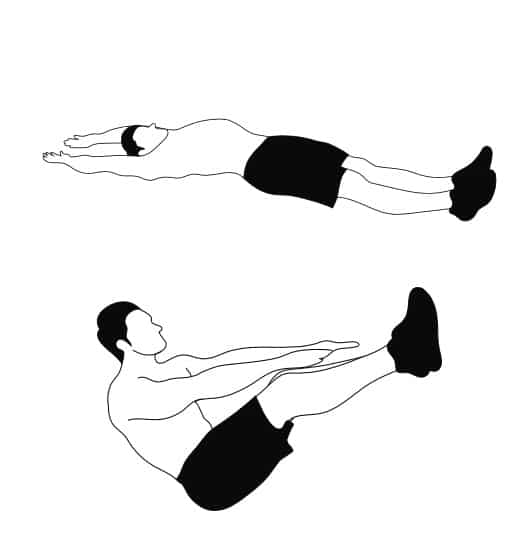 X10
Russian
Twists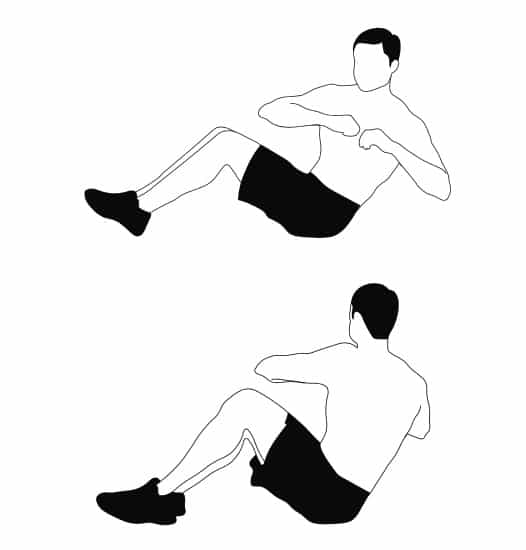 X12
REPEAT 3 TIMES
Finish with cool-down stretching
Day 3 – Friday
WARMUP
Skaters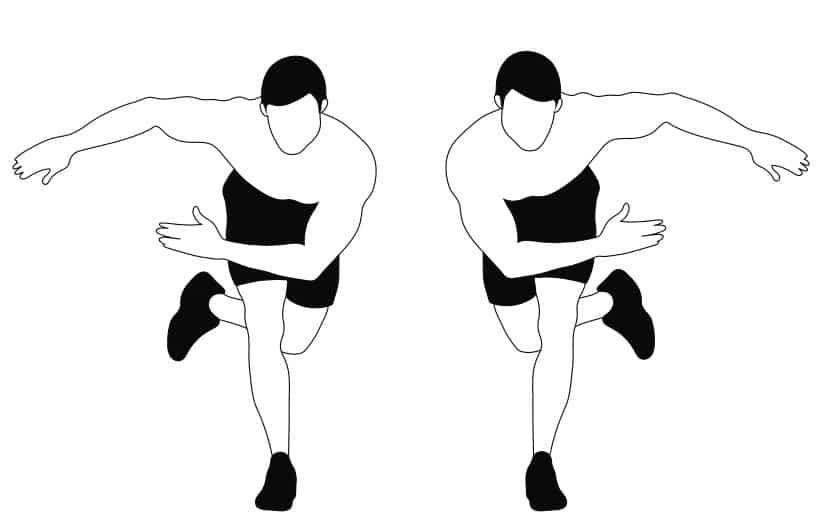 3×10
Arm Swings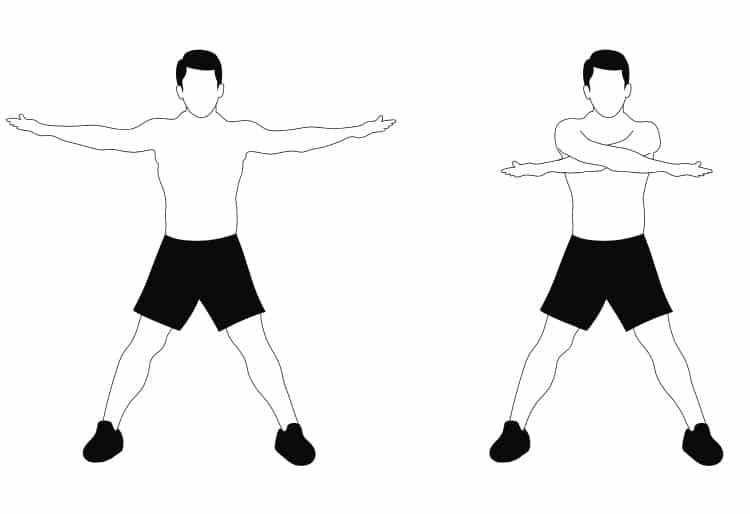 3×12
Forward Lunges
3×10
FOLLOW WITH STRETCHING
WORKOUT – CIRCUIT 1
Banded
Splitter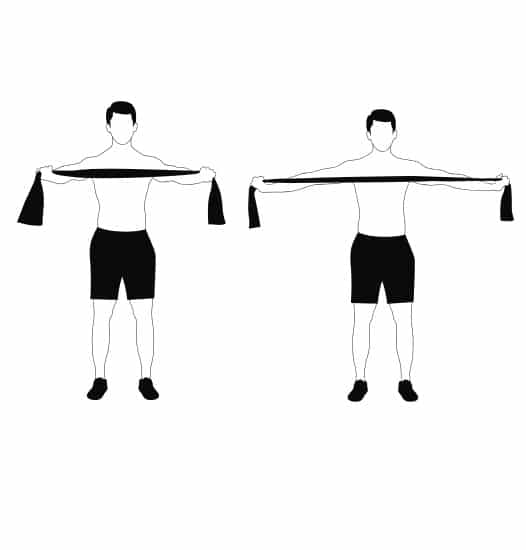 X10
Reverse
Crunches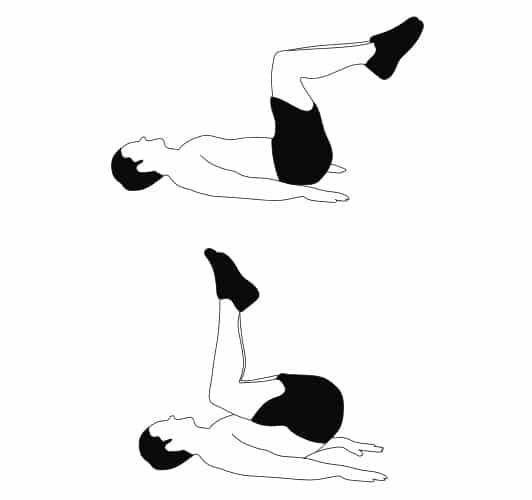 x10
Squat to Core Twist
x10/side
Chair Tricep
Dips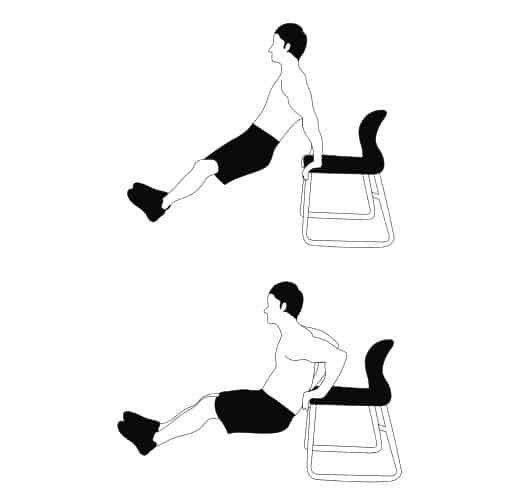 X10
Squat w/ Arm Reach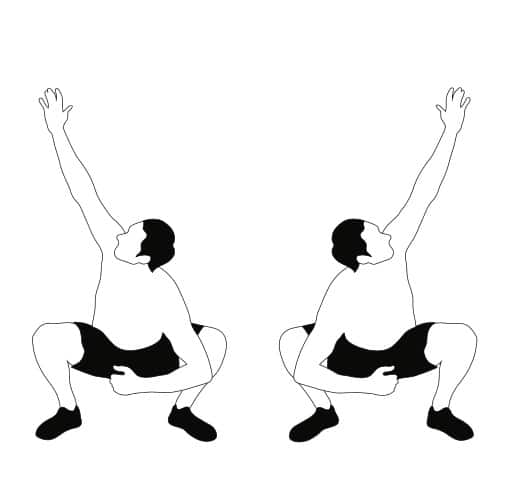 X12
REPEAT 3 TIMES
WORKOUT – CIRCUIT 2
High
Knees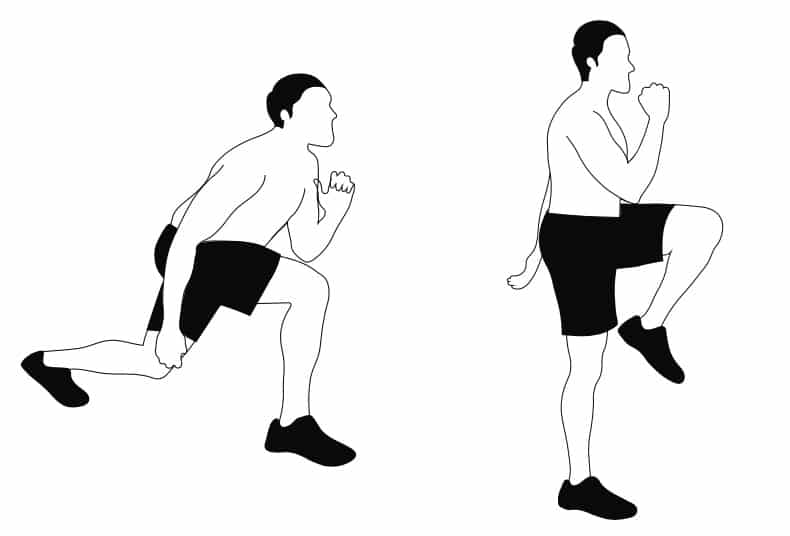 X15
Burpees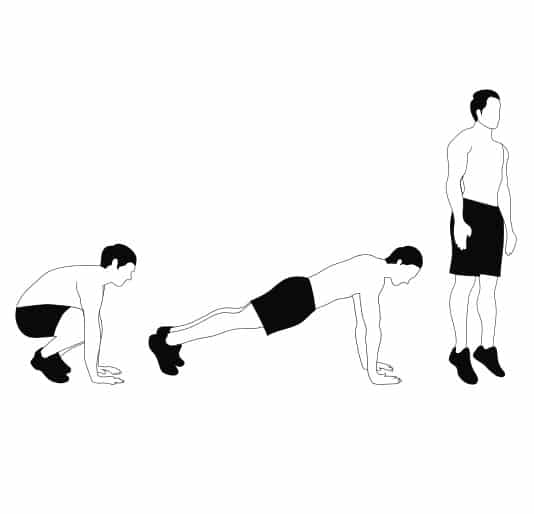 X10
Flutter
Kicks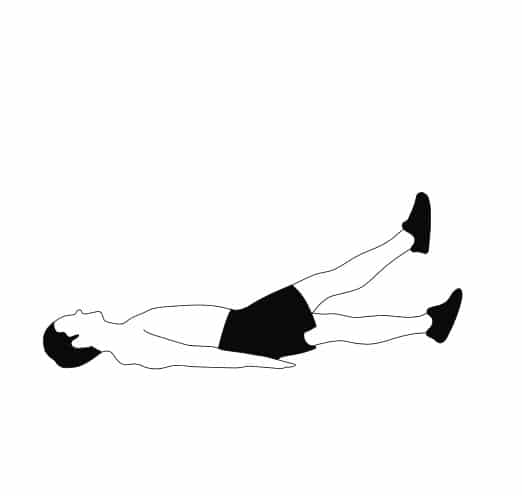 X10
Crunch w/
Hold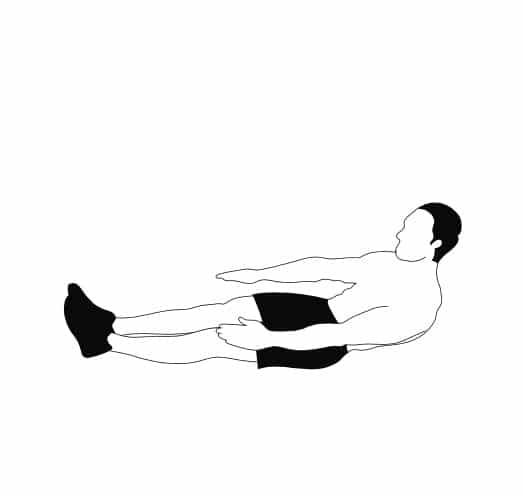 X10
Mountain
Climber Twists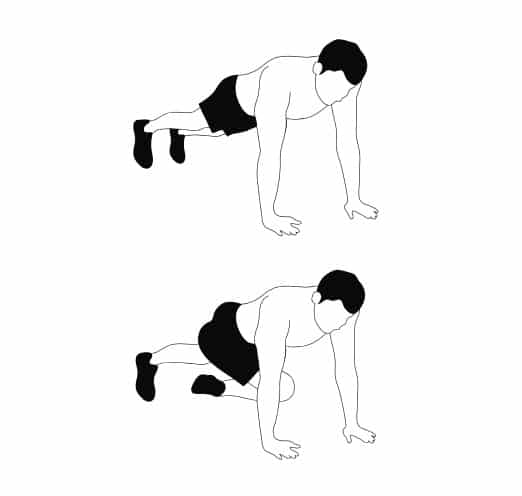 X12
REPEAT 3 TIMES
Finish with cool-down stretching
Day 4 – Weekend (HIIT)
WARMUP
High Knees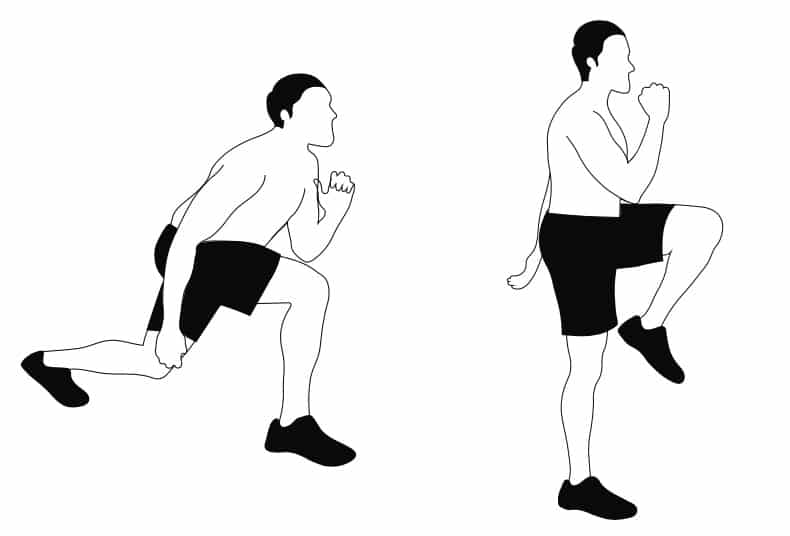 3×12
Half Burpees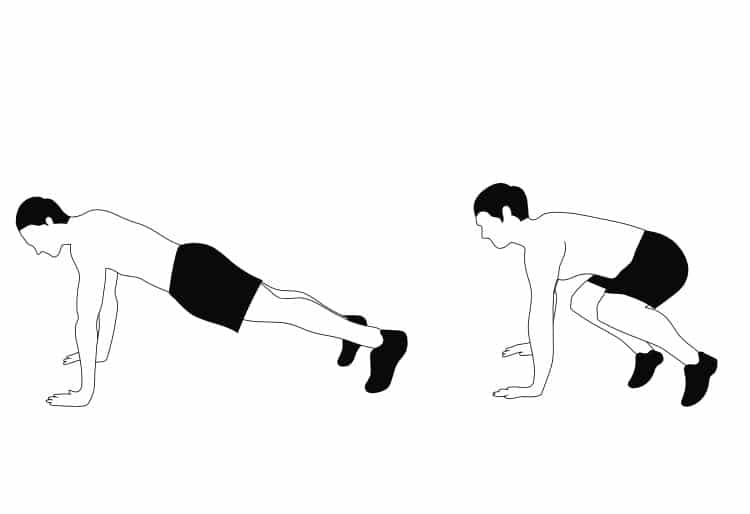 3×10
Jumping jack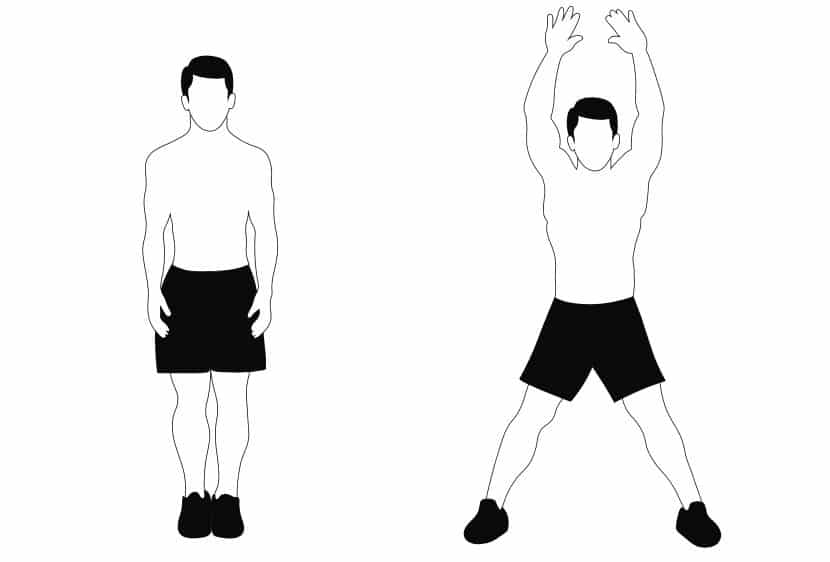 3×12
FOLLOW WITH STRETCHING
WORKOUT – CIRCUIT
Skaters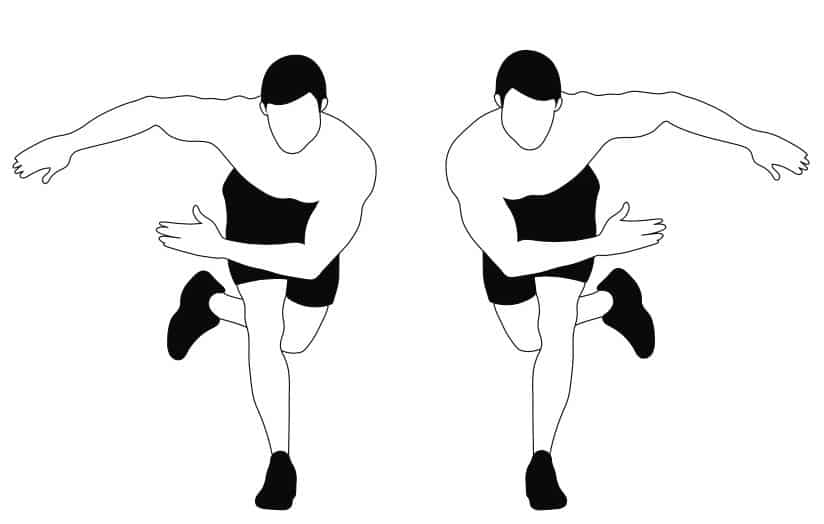 X12
Sit-Ups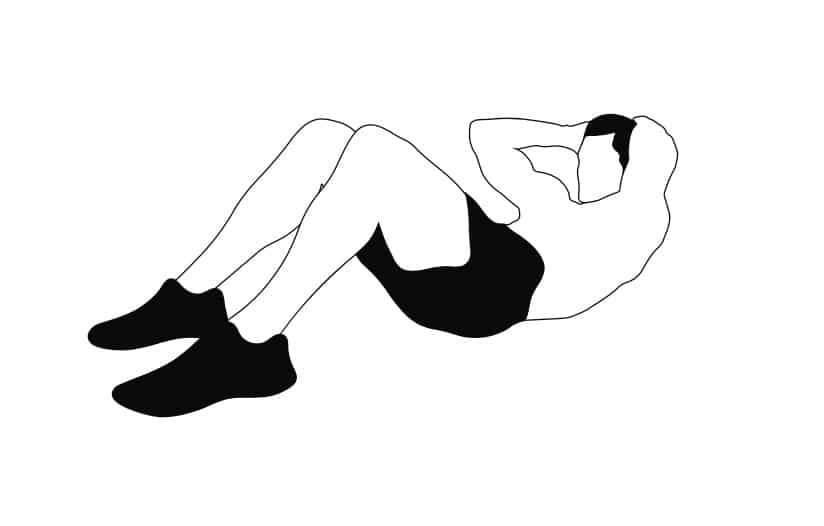 X10
Walk Outs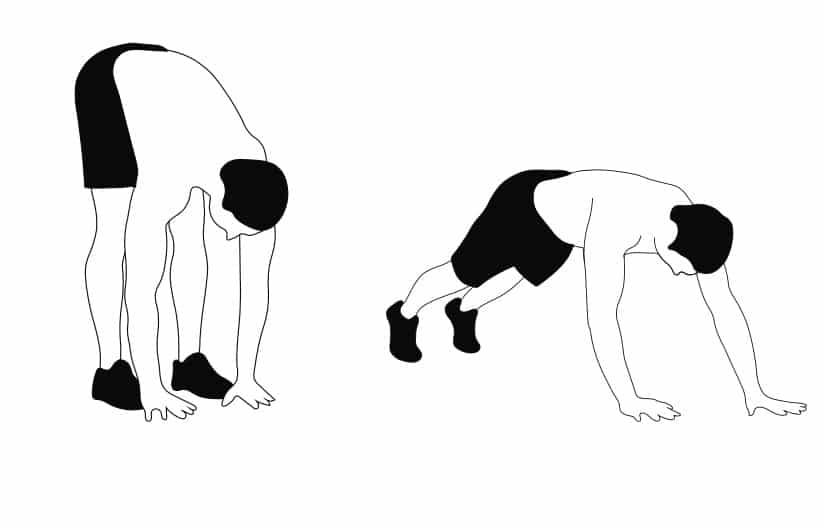 X8
Half Burpees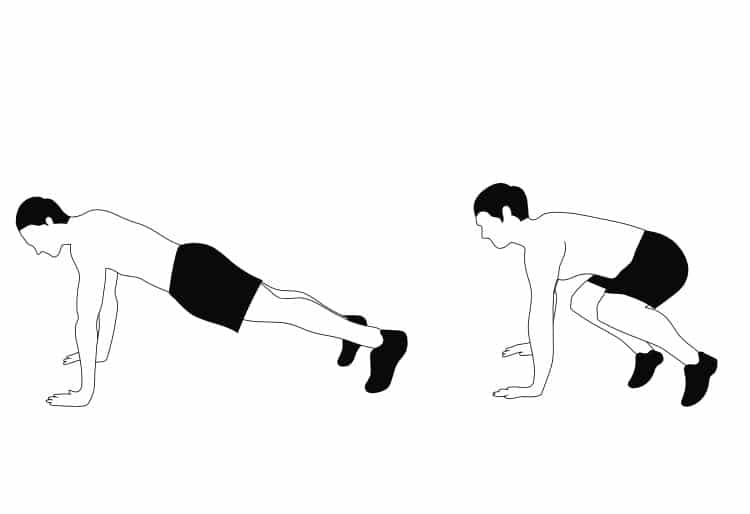 X10
Toe-Touch Crunches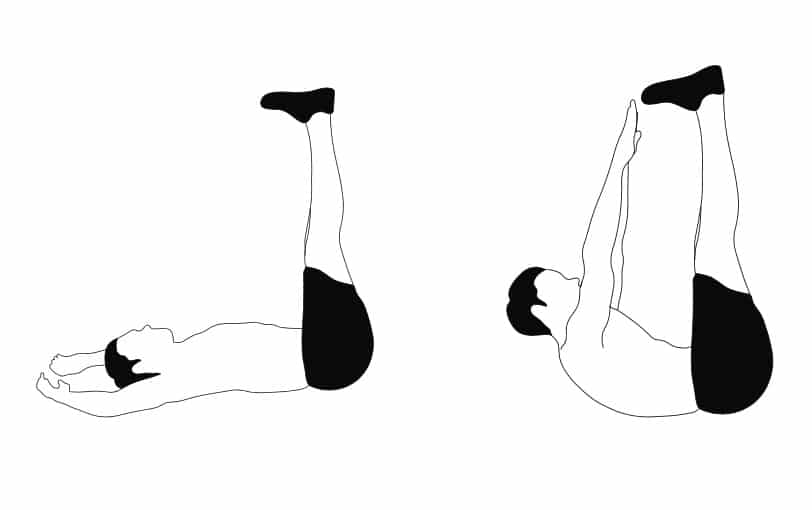 X10
Up & Down Plank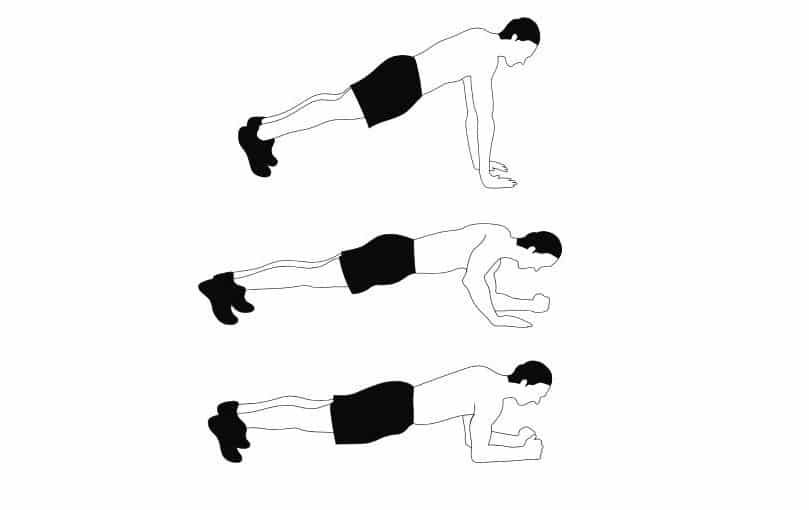 60 SEC
REPEAT 3 TIMES
Finish with cool-down stretching
For each weekly routine schedules, there are a few tips for you to take away to get the most out of your workout. First, always push yourself to break a sweat to excel fat burning. This is especially effective for high-intensity training workouts (HIIT). 
Opposingly, take weight training slowly. Breaks in between sets can regulate your heart rate. During these weight-based sessions, it is beneficial to lift as heavy as you can whilst maintaining form. This will excel your muscle building and increase toning. 
Exercise tips are great to take with you to each of your four sessions. Incorporating these into your routine will help you reach your goal sooner. 
As well as exercise, several nutrition tips that will help you lose weight: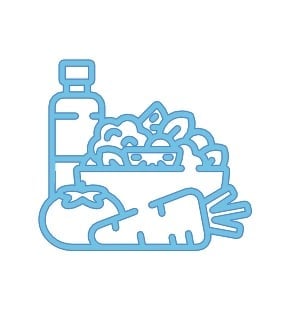 Nutrition Tips
Macros and the number of calories you are eating is extremely important. This is key when trying to lose body fat and build muscle. You also always should be eating the correct foods that aid your body. You can go online and search for macro calculators and they will give you an estimate on how many calories you should be eating daily to meet your goals.
For more tips on how to eat, what to eat, and why you should stick to a nutritional lifestyle:
How To Eat During This Workout Plan
Ensuring you are eating wholesome balanced meals throughout this plan is key for optimising results. Without good nutrition, you will not see the best results. 
Eliminating sugary, processed and fatty foods is a great place to start. Replace these foods with wholesome nutrients such as lean protein, healthy carbohydrates, and fibrous foods. Eating three balanced meals that fit into your calorie deficit will result in weight reduction. A balanced meal should consist of 50 percent carbohydrates, 20 to 30 percent fat, and 20 to 30 percent protein.
For more on creating a calorie deficit to reach your goals:
Calorie Deficit 
Creating a calorie deficit has many benefits for losing weight. Not only does reducing your calorie intake promote weight loss and fat burning, but it also increases your metabolism, reduces fatigue, and improves athletic performance. 
To obtain an effective calorie deficit diet, there are a few simple changes you can make:
Restrict meal times: eat during a 12-hour window to prevent snacking and overeating
Drink more water: water can combat hunger and fatigue
Eat smaller portions: controlling your portion size is necessary for every meal
Eat negative calorie foods: high water content foods are effective for fat burning
A healthy calorie reduction is key to reap these benefits. A calorie reduction of around 500 per day is sustainable and effective. 
It can be dangerous to reduce your calories to 1,200 or less per day. A calorie intake too low can cause gallstones, nutrient deficiencies, a slow metabolism, and reduce fertility. So, it is important to calculate a healthy calorie deficit. 
=> Learn more about Calorie Deficit and how to Calculate it
Supplements
Reducing your calorie intake and eliminating foods from your diet can sometimes result in  nutrient deficiencies. To combat this, you can use supplements. Even if you are not deficient, they are beneficial to take. 
Supplements can also increase fat burning, which will excel your weight loss. Fat burners work to reduce hunger, increase energy, and boost metabolic rate. All of which are benefits that promote fat loss. Most fat burners are formulated with ingredients such as caffeine, green tea, and soluble fibres, which are safe to take and proven to be effective.
There are many other ways to encourage and sustain your progress:
Weight Loss Tracking Apps
For more help with exercise and food plans on the go, weight loss tracker smartphone applications are a great option. Most work as weight loss and food trackers. 
Through the apps, a person can track their daily food intake which is a great tool for those reducing their calorie count. They can also use the apps for recipes, to chat with online community support groups and chat live with professionals. 
For example, Noom is an app with multiple functions. A user can track their food using the food database consisting of over 3.7 million options. Another option for food tracking is the meal planning function which helps dieters plan their weekly meals. 
Users can also seek advice from health and fitness professionals as well as chat to like-minded dieters. Noom offers a 7-day free trial for users to see if the app suits their needs. With various capabilities, users can maximise and sustain their weight loss journey through weight loss tracker apps. 
=> Read more about the best weight loss apps here
Ready-made plans are a great tool to get people started. But, to sustain the progress it can be helpful to add your twist to your plan. This will make it more manageable depending on your lifestyle and preferences. For help with creating your plan, see below: 
How To Create Your Plan For Losing Weight?
After completing this four-week plan, you may want to add your preferences to make it sustainable. If you are seeking further weight loss or want to maintain your weight, there are a few simple steps. 
Continue with workouts you enjoy
When it comes to deciding what workout you want to do, it should be something you will enjoy. Formulate your workout routine by focusing on what you enjoy and see results from.  Whether that be more fast pace cardio-based workouts or slower muscle training exercises, do what makes you feel good. Having a positive attitude towards your workout routine will encourage you to continue. 
Don't restrict yourself
Nutrition is just as important as exercise. As much as reducing calorie intake and restricting certain foods from your diet can encourage weight loss, it can also become dull. It is important to enjoy what you eat to continue to eat it. 
Treat yourself from time to time. The best way to stay on track is to enjoy yourself and what you are doing. Also remember to give yourself an active recovery day.
Know when it's time to have a break 
If you have been training intensely for weeks on end and feel burnt out, it is time to take a break. Or, if you feel fatigued and unmotivated from restricting yourself to balanced meals, give yourself a day or two to regenerate energy and motivation. 
If you are here to lose weight but are unsure about how to goal set, here's more: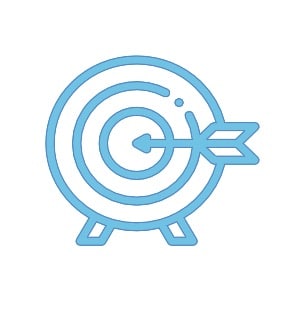 How To Set Your Weight Loss Goals and Create Habits
Setting goals and creating new habits is easier said than done. The main reason for giving up is often due to setting goals that are too big, unrealistic and usually unreachable. Thus, setting goals that are small and manageable is ideal. 
Setting small goals and achieving them is the same as creating new habits. They go hand in hand. The feeling of accomplishment then encourages you to keep going and stick to these new habits. 
These few tips will help you set goals and ultimately, create new habits that will encourage and sustain your journey:
1 – Write down your goals and start small
When you are losing weight, there is typically an end goal. This end goal is the bigger picture. To get there you need to create small steps and integrate these new but small habits into your daily lifestyle. Eventually, these small steps will lead to reaching your end goal. 
=> For the best tips and advice for setting goals, see our article here 
2 – Tackle your obstacles and bad habits
Understanding what your bad habits are the only way to eliminate the negative attitudes out of your life. Tackling these bad habits and replacing them with new habits is what you need to set yourself up on a path to success. 
3 – Make a plan and commit
This part is made easier for you with the use of this four-week workout plan and nutrition guide. Use this as your starting point and motivation to get going. Write it down wherever you can easily access it. Set yourself reminders. Sticking to this every week will ensure results. 
4 – Track your progress
Tracking your progress over these four-weeks will prove to you that you will succeed in reaching your weight loss aim. It will allow you to measure your development, reflect, and stick to your habits. 
To make this easy, use a weight loss tracking app to monitor your progress and track your habits.
5 – Reward yourself
After sticking to your new habits and succeeding your small goals, it is time to reward yourself. Small rewards are a great motivator.
=> For more help on how to create and build new habits, see more here 
Beginning a weight loss journey can feel overwhelming. The first step to tackle is your first workout, day of balanced eating, and creating a plan. When you have overcome this obstacle, you are on the right track. 
For those with more concerns about this four-week plan or losing weight in general, see below for some FAQ's which may tackle those questions:
Frequently Asked Question (FAQ)
How much weight can you actually lose in 4 weeks?
This answer will vary from person to person. It depends on a variety of factors from your current weight, metabolic rate, age, health condition, and physical state. An average person can lose up to 10 pounds in the four weeks.
Can I lose 1 stone in a month?
Losing one stone in a month is considered as drastic weight loss. For some, it is possible and sade. For others, it can be extremely difficult to lose this much weight in a month. It can often be dangerous. 
On 1500 calories a day, how much weight can I shed?
Reducing your calorie intake will often result in weight loss. An average of 1 to 2 pounds can be lost per week when eating 1500 calories a day.
How do I kick start my weight loss?
Starting your weight loss journey isn't easy and will require a lot of discipline and commitment. A few tips to help you started include:

1) Eat plenty of fruits and veggies
2) Stay hydrated
3) Begin exercising
4) Get sufficient sleep
5) Keep your weight loss goals realistic
How do you speed up weight loss?
You can speed up your weight loss and burn more fat by implementing long-term behavioral and lifestyle changes, reducing your intake of processed carbs, pumping up your protein intake, drinking more water and hitting the weights more often.
What are the signs of fat burning?
Here are signs to show that you are losing weight:
1) You are no longer hungry all the time
2) You have built muscles
3) Your body measurements have changed. Your clothes may fit you differently
4) You no longer go to the bathroom that often
5) There is an improvement in your mood
How much weight can you lose in 4 weeks with intermittent fasting?
Intermittent fasting is a timed eating cycle, known to be effective for weight loss. When combined with exercise, the weight loss benefits of fasting can be increased. Thus, you may expect to lose a few more pounds during this four-week plan with intermittent fasting.
Is a 30-minute workout good enough to lose weight?
Studies show that you need 30 minutes to 1 hour of daily workouts to lose weight. Your workout may range from moderate to vigorous aerobics.
Use this guide as your plan to get you started, your motivation and help throughout your weight loss journey. This is a balanced, safe and sustainable plan anyone can benefit from. It can be used longer than four-weeks if you wish to. But, it is ensured that by sticking to this plan anyone can lose weight in four weeks. 
When you start any workout routine your focus should be on your form and technique. Losing fat and retaining muscle is extremely rewarding but takes patience and determination. 
Performing these exercises will challenge your muscles and usually, in the beginning, will leave you slightly sore, but you should not feel actual pain. If you do, it is important to assess the problem. 
Try new exercises that work for your goals specifically and remember quality over quantity. 
Like mentioned earlier, make sure you are eating in a caloric deficit when trying to lose fat. You will not lose fat at high rates if you do not eat the correct number of calories daily. Eating the correct foods is an important aspect as well. 
It is important to make sure you have a mind-muscle connection when doing all these workouts. Focus on really engaging and focusing on the tension in your muscles while performing each exercise, especially the ones that focus on your glutes. 
Most importantly you should remember that starting and continuing any fitness routine takes time and dedication. Be patient with yourself when working for results and have fun. 
To help you with this challenge, we created a Facebook Group where you can ask all your questions and help each other in the journey!
If you succeed in the challenge and finished the 4 weeks workout plan, please post in the group: "I succeeded" with the Kilos/Pounds you lost during the journey!
Enjoy!